Scion iQ EV Question Mark in Toyota's Hybrid Game Plan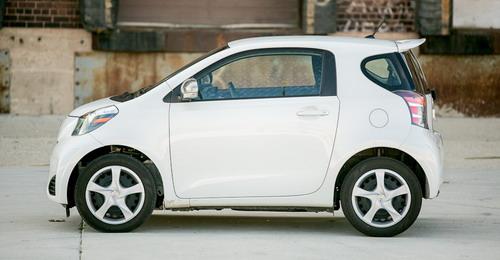 Toyota Vice Chairman Takeshi Uchiyamada told reporters today that "there are many difficulties" to selling an EV based on the Scion iQ, Reuters reports. The so-called eQ would have competed with the Smart ForTwo Electric Drive and forthcoming Chevrolet Spark Electric.
"The current capabilities of electric vehicles do not meet society's needs, whether it may be the distance the cars can run, or the costs, or how it takes a long time to charge," Uchiyamada said. That said, Toyota will sell the eQ, which was unveiled in concept three years ago, in sparse quantities. The automaker plans to build only about 100 cars, which will be offered in Japan and the U.S. There's no word on pricing yet.
To call EV sales sluggish is to put it mildly. In August, the Nissan Leaf, Mitsubishi i-MiEV, Ford Focus Electric and Honda Fit EV combined for just 900 sales. Plug-in hybrids and extended-range EVs like the Chevrolet Volt and Toyota Prius Plug-in are doing comparatively better: The Volt sold 2,831 in August, and the Prius Plug-in has sold 6,061 through the first eight months of the year. (Toyota didn't provide August figures.)
Toyota plans to offer 21 new or updated hybrids and plug-in cars over the next few years, Reuters reports. Fourteen of them will be all-new.
Related
Scion iQ Review
Research Plug-in Cars
More Automotive News