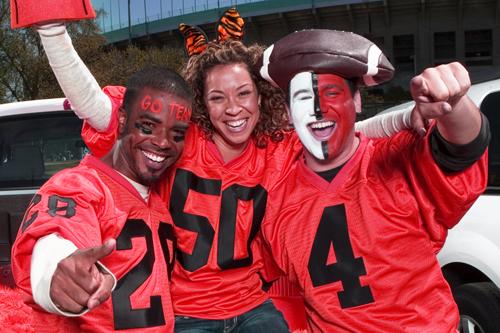 It's football season again, and that means a return to the parking lot for that venerated pregame festivity: tailgating. Parked cars, grilled meat, refreshing beverages and overpriced fan jerseys join together to help you steel yourself to cheer on your team.
It's a time-honored tradition. The American Tailgaters Association notes that it began before cars existed, with the first such party taking place before a college football game between Princeton and Rutgers way back in 1869. This was when football played out like rugby, with 25 players to a side. It was a different era, to say the least: Someone had to mind the horses.
Today, tailgate veterans have elaborate setups with pull-out grills, team flags and tailgate-customized vehicles, but anyone with a roomy car can throw a decent bash. We surveyed dozens of hatchbacks, wagons, SUVs, pickup trucks and minivans — basically anything in which you can hang out the back — to see which cars help the most in the "asphalt art." We awarded points for seating capacity, cargo room, extra storage areas and tailgate-friendly features, and we required all tailgating features to be available from the factory. You can build almost anything you'd want from aftermarket pieces, but we wanted to focus on factory-available options.
Here are four rungs of qualifiers. Remember, above all else, please tailgate responsibly.
Quarterback
2012 Honda Odyssey
The Odyssey is a tailgate machine. It can bring eight fans with enough room behind them — 38.4 cubic feet — for a small grill. Or take five fans, collapse the third row and have 93.1 cubic feet for all your gear. Models with the rear entertainment system include a cargo-area household power outlet to run your speakers or electric cooking gadgets. Step up to the Odyssey's Touring Elite trim, and you'll get Honda's 16.2-inch rear entertainment system. It can split the screen between two sources with audio-video and HDMI inputs. That means you could stream coverage of the pregame sportscast from a smartphone while someone plays Madden 13 on the other side. Tailgating will never be the same.
First Team
2013 Dodge Grand Caravan
The Grand Caravan boasts 33 cubic feet of space behind the third row and 83.0 cubic feet behind the second. Its standard Stow 'n Go seats create large under-floor compartments in front of the second row that can stow drinks, food and gear. The third-row seat flips back for a rear-facing tailgate seat — also standard — that allows two or three revelers to sit where cabin vents can offset some of that December wind. A flip-down rear entertainment screen, meanwhile, can stream pregame coverage off your smartphone.
2013 Toyota Sienna
While the Sienna lacks the Grand Caravan's tailgate seat, it offers a 16.4-inch dual-view screen, much like the Odyssey that also can play two side-by-side screens (though without the HDMI input). The cargo area has an optional household outlet, as well as 39.1 cubic feet of room — the best if you plan to carry people in all three rows. Stick to two rows, and you've got 87.1 cubic feet of space. Load up the gear, Raider Nation, and make sure to leave those high-beams right on the Chiefs fans in the facing lot.
Second Team
2012 GMC Acadia
Like all of GM's large crossovers, the Acadia bridges the SUV-minivan gap best. Behind the third row is 24.1 cubic feet of cargo room, and the Acadia offers cargo-area stereo controls so you don't have to go up front to skip tracks on your "Hail to the SEC" mix. (Four ZZ Top songs were probably one too many, anyway.) A rear entertainment screen is optional, and small storage well below the cargo floor lets you hide your valuables.
2012 Honda Ridgeline
The Ridgeline's ace in the hole is a standard 8.5-cubic-foot trunk under the pickup bed. With durable siding and a drain plug that empties below the truck, the Ridgeline becomes a 255-quart cooler on wheels. You'd need two large rolling coolers to match that capacity. Inside the crew cab, the second-row seats flip up to enable taller storage for a grill. Or save the space for people and tether the cookery to the bed's eight tie-down cleats. The Ridgeline has less covered storage than the minivans, but it's easily the best tailgating pickup available.
2012 Nissan Xterra
The Xterra has modest cargo space — 36.3 cubic feet behind the second row — but the available Easy Clean cargo area covers the cargo floor and second-row seatbacks with a hard coating that's quick to wipe down. Leave the tarp at home; you won't have to scrub out stains after this. Under-floor cargo storage keeps your valuables safe, and if you tailgate on grass or mud, there's a ventilated storage bin on the roof. You can throw the really messy stuff up there.
2012 Toyota 4Runner
An optional sliding cargo deck in the five-passenger 4Runner extends up to 440 pounds of food and beverages within easy reach of tailgaters. Leave the folding table at home; this has one built in. Be aware, though: You have to choose between a third row and the cargo deck; you can't have both. Under-deck storage and a cargo-area household outlet round out the SUV's strengths. Slide the deck back in and it underpins up to 46.3 cubic feet of storage room. Heck, it might be more useful than this season's pass rush.
Third Team
2012 Ram 1500
The Ram first offered the RamBox for 2009, and since then the storage compartment has increased in availability. Locking compartments sit above the pickup's rear fenders, with drain plugs similar to the Ridgeline's in-bed trunk. In fact, Ram says that a Ram with the 6-foot-4-inch bed can fit up to 280 cans in its RamBox — enough for a gaggle of thirsty tailgaters. Need more space? Available in-floor cabin compartments have removable, drainable liners, too. Bring on the ice.
2012 Honda Fit
Not every tailgating vehicle needs to be a giant. The Fit is among the most space-efficient cars on the market, so go ahead and pull in next to the big guys. With 20.6 cubic feet of space behind the rear seats plus a flip-up second row for taller storage, it can handle a lot more than its exterior suggests. It might be the best choice for the stealthy away fan: small enough to slip in unnoticed, but with enough room for a tailgate spread that does your home team proud. And when it's time to leave, the Fit's small size and zippy acceleration may make getting out of the parking lot a lot easier.
2012 Subaru Outback
The Outback has 34.3 cubic feet behind the second row, plus some under-floor storage — nothing to get too excited about — but its trump card is a standard washable cargo tray. That beats even a washable floor: make a real mess back there and you can take the tray out altogether to hose it off. Just don't dump the mess on that car with all the Cleveland Browns flags. That would be like kicking a guy when he's down.