2013 Cayenne Turbo S Is the Most Powerful Porsche SUV Yet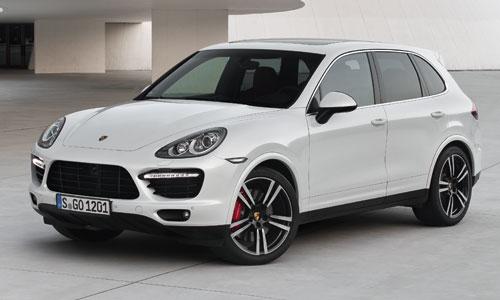 For the first time in three model years, the Porsche Cayenne is once again available in a Turbo S variant.
The 2013 Cayenne Turbo S makes 550 horsepower, a 50-hp increase from the Cayenne Turbo. The 2009 and 2010 Cayenne had a 550-hp, 4.8-liter V-8 Turbo S trim.
The 2013 Cayenne Turbo S also comes with a 4.8-liter V-8, and it makes 553 pounds-feet of torque. That's 37 more pounds-feet compared with the Cayenne Turbo. The added power helps the Cayenne Turbo S accelerate from zero to 60 mph in 4.3 seconds with a top track speed of 175 mph.
All the optional chassis enhancements on the Cayenne Turbo are standard on the Turbo S. Those enhancements include torque vectoring control, dynamic chassis control and enhanced power steering with active steering management. There's also an analog and digital watch timer added to the center dash, and the trip computer includes lap distance, individual lap times and driving time. The trip computer also includes latitudinal and longitudinal acceleration figures.
To help distinguish the model from the Turbo, Porsche added larger front air intakes, and the side mirrors are painted black. The Turbo S is equipped with 21-inch wheels that come from the Porsche 911 Turbo II. In the cabin, the model comes equipped with Alcantara upholstery and carbon fiber trim.
The 2013 Cayenne Turbo S will go on sale in the spring for $146,975, including a $975 destination fee. That's $37,250 more than the Cayenne Turbo.
Related
Porsche Adds Diesel Engine to 2013 Cayenne
More Porsche Cayenne News
2013 Porsche Boxster: Review Notes