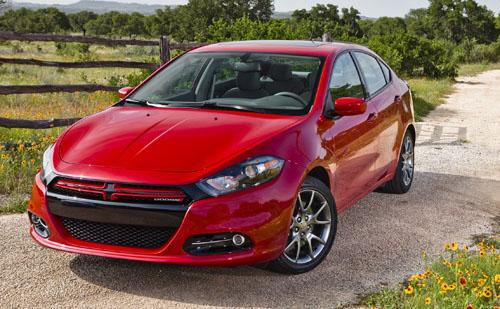 When the 2013 Dodge Dart Aero goes on sale in the coming months, it will start at $20,090, including a $795 destination fee.
That's less expensive than the 2013 Chevrolet Cruze Eco ($20,475) and the 2013 Ford Focus SFE ($20,185), but it costs more than the 2013 Mazda3 with SkyActiv ($19,170).
The Dart Aero slots in-between the Dart Rallye ($18,790) and the Dart Limited ($20,790) trims in terms of pricing. Standard equipment includes cruise control, automatic headlights, a leather-wrapped steering wheel with audio controls, projector headlamps and LED taillamps. Fuel-saving features on the Dart Aero include lightweight aluminum chassis components, active grille shutters, underbody aero kit and low-rolling-resistance tires.
The Aero uses the regular turbocharged 1.4-liter MultiAir inline-four-cylinder that comes on some SXT, Rallye and Limited trims. It's available with a six-speed manual or a six-speed dual-dry-clutch automatic transmission.
The Dart Aero gets 28/41 mpg city/highway and 32 mpg combined with a six-speed manual transmission. The six-speed dual-clutch automatic transmission will net 28/40 mpg and 32 mpg combined. However, the Aero will only achieve these figures sipping on premium gasoline, which will likely be a major detractor for compact-car shoppers. The Dart Aero gets about the same fuel economy as the 2013 Chevrolet Cruze Eco (26/39 mpg), 2013 Ford Focus SFE (28/40 mpg) and the 2013 Mazda3 (28/40 mpg) when all are equipped with an automatic transmission.
Related
2013 Dodge Dart Aero Rated at 41 MPG
Dodge Dart, Lexus ES and Two More Named Top Safety Picks
More Dodge Dart News