2013 Mercedes-Benz E550 Cabriolet: Car Seat Check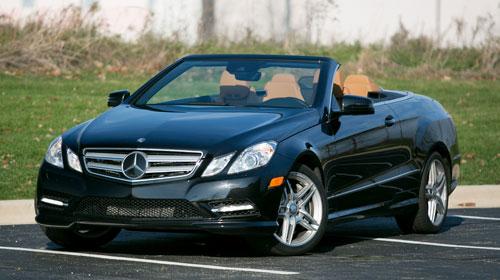 It sometimes seems that editor Jennifer Geiger and I are gluttons for punishment when it comes to installing child-safety seats into cars with cramped backseats like the 2013 Mercedes-Benz E-Class Cabriolet. Our rule of thumb for Car Seat Checks is if it has a backseat, we install safety seats in it. The E-Class comes in four body styles: sedan, coupe, wagon and Cabriolet. The Cabriolet is a four-seater with a comfortable backseat, but it quickly became cramped when we added our gigantic car seats to the mix.
For the Car Seat Check, we use a Graco SnugRide 30 rear-facing infant-safety seat, a Britax Roundabout convertible child-safety seat and Graco high-back TurboBooster seat.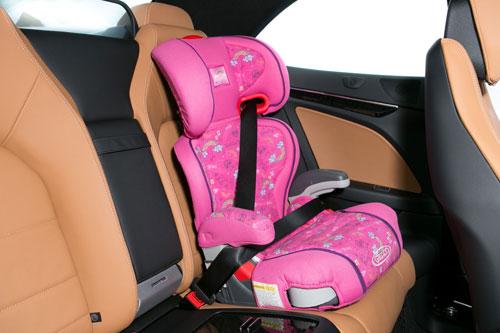 The front seats are adjusted to a comfortable position for a 6-foot driver and a 5-foot-8 passenger. The three child seats are installed in the second row. The booster seat sits behind the driver's seat, and the infant seat and convertible seats are installed behind the passenger seat. We also install the convertible seat in the second row's middle seat with the booster and infant seat in the outboard seats to see if three car seats will fit. If there's a third row, we install the booster seat and a forward-facing convertible.
Here's how the E550 Cabriolet did in Cars.com's Car Seat Check:
Latch system: The Cabriolet's backseat has two sets of lower Latch anchors that are hard to reach because the stiff seat cushions are in the way. Like many convertibles, the E550 Cabriolet doesn't have tether anchors. They are not federally mandated.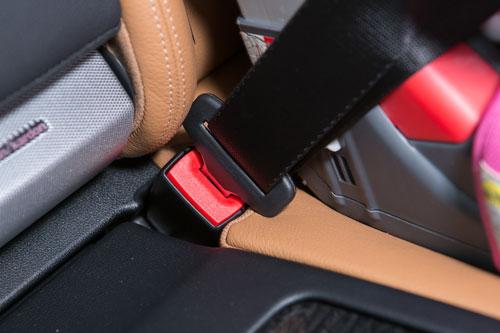 Booster seat: The rear seats have large bolsters to hold passengers in place during spirited driving. However, these same bolsters pushed our booster seat to one side of the bucket seat, covering the seat belt buckle. We were able to manhandle it into a better position, but it's unlikely a child could do the same.
Convertible seat: We were able to install the forward-facing convertible into this err, convertible, but the rear-facing seat didn't fit in the rear seats, even though we moved the front-passenger seat as far forward as it would go.
Infant-safety seat: This rear-facing seat also didn't fit in the Cabriolet.
How many car seats fit in the second row? Two can fit, but they must be forward facing.
Editor's note: For three car seats — infant-safety seat, convertible and booster seats &mdash to fit in a car, our criterion is that a child sitting in the booster seat must be able to reach the seat belt buckle. Parents should also remember that they can use the Latch system or a seat belt to install a car seat.
Related
Research the 2013 Mercedes-Benz E-Class
More Car Seat Checks
More Safety News