2013 Nissan Pathfinder: First Drive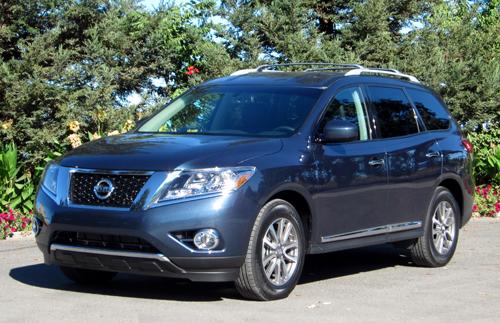 Nissan officials readily admit they're one of the last automakers to offer a three-row crossover; it's something Honda and Toyota have peddled since the early 2000s. Through September, droves of Costco-hauling suburbanites have edged three-row midsize and large crossovers north of 660,000 sales, accounting for roughly one in every 16 new vehicles sold. Every major automaker offers one except Volkswagen and that may soon change.
Nissan's solution: Reimagine the aging Pathfinder — a truck-based SUV with EPA combined city/highway ratings as low as 14 mpg — into something that competes squarely with the Ford Explorer, Honda Pilot and Toyota Highlander. It hits dealerships late this month with a starting price at just over $29,000.
I drove front- and all-wheel-drive versions of the new Pathfinder at a media preview in Northern California this week.
It boasts handsome styling, commendable gas mileage and decent, if imperfect, drivability. Odd packaging leaves certain trim levels with subpar tech features, but the Pathfinder has a few strengths that should get the attention of family shoppers.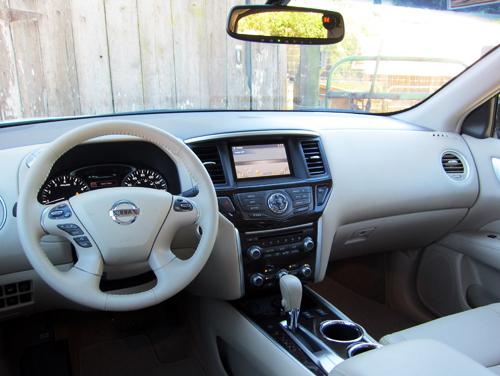 Nissan swapped the old Pathfinder's truck-suited drivetrains — a 4.0-liter V-6 or 5.6-liter V-8, each with a five-speed automatic — for its familiar 3.5-liter V-6 and continuously variable automatic transmission. The duo provided enough oomph for my drive route's rapid elevation changes, but the so-called "next-gen" CVT's penchant to hunker back into lower revs makes for some lag when you dig into the gas for passing maneuvers. Still, once the transmission kicks up to higher revs, the V-6 moves out, if not as stoutly as a V-6 Toyota Highlander or Chevrolet Traverse. Fans of the old V-8 Pathfinder will find little comparison for passing power or towing capacity, which drops to a crossover-competitive 5,000 pounds from the last Pathfinder's trucklike 7,000-pound rating. But Nissan says buyers cared much more about gas mileage. With the national average price of a gallon of regular gasoline hovering above $3.75, we can't argue.
To that end, Nissan removed hundreds of pounds — 279 to 464, comparing equivalent V-6 trims — in the redesign. That's atypical in a segment where weight gains are the norm — even when SUVs move to car-based platforms (see the Dodge Durango or Ford Explorer). The sum of Nissan's parts delivers an excellent EPA-estimated 20/26 mpg city/highway (22 mpg combined) in front-drive Pathfinders, and all-wheel-drive versions get 19/25 mpg (21 mpg combined). Both figures edge out the major competition by 1 to 2 mpg, though one Explorer variant — the front-drive, turbocharged four-cylinder EcoBoost engine (20/28 mpg) — has Nissan beat.
Unfortunately, the efficiency doesn't come for free. Nissan says low-rolling-resistance tires helped save a few tenths of a mile per gallon, but my testers' all-season tires — Bridgestone Dueler Sport P235/55R20s on a top-of-the-line Pathfinder Platinum and Continental Cross Contact LX P235/65R18s on a midlevel Pathfinder SL — surrendered grip too easily in tight corners. Even modest high-speed curves rendered sidewall protests. A jaunt in a Pilot and Highlander that Nissan provided revealed more grip in both. Take the mileage hit, Nissan; Pathfinder buyers deserve the same as Pilot and Highlander drivers.
Handling and ride composure impressed otherwise, with good steering feedback on winding roads and a settled wheel at highway speeds. The Pathfinder's cabin shows clear design similarities to its platform sibling, the Infiniti JX35, though the Nissan feels lower-rent in certain areas: harder textures up front and less padding where backseat passengers rest their arms. It's competitive with its non-luxury ilk, if not as roomy as some of them.
The second-row seats sit low to the ground, and adults in the second and third rows will have to work out a compromise for acceptable legroom. With 5.5 inches of second-row seat travel, either row can enjoy room aplenty if the other one gets very little, so negotiate wisely. Third-row headroom, by contrast, is good. The way-back seatbacks recline — a rare bonus.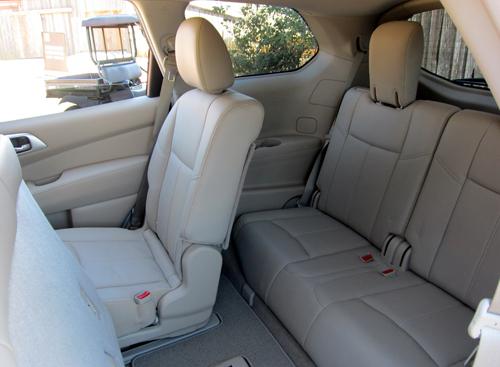 Nissan's Latch and Glide system allows third-row access if you've installed a child-safety seat in the second row. The passenger-side seat (sans child) tips forward while keeping the child-safety seat installed, but the walk-in path is more of a squeeze-by setup. Without the child seat, both sides collapse forward — similar to the chairs in GM's crossover SUVs — for a wider entrance.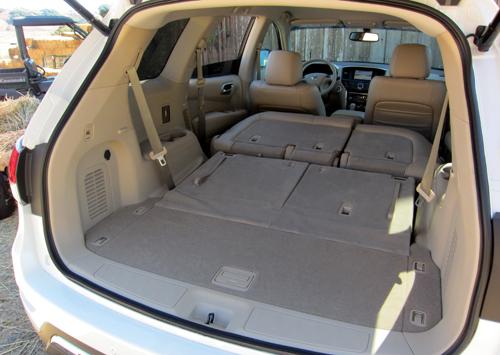 Luxury options include heated and cooled front seats, two moonroofs that cover all three rows and a power tilt/telescoping steering wheel, but a few utility shortfalls persist.
Fold the seats down and numerous floor gaps threaten to catch your cargo. Maximum luggage volume — just 79.8 cubic feet — roughly matches the Explorer, but it trails the Pilot (87.0 cubic feet), Highlander (95.4 cubic feet) and Traverse (a mammoth 116.3 cubic feet).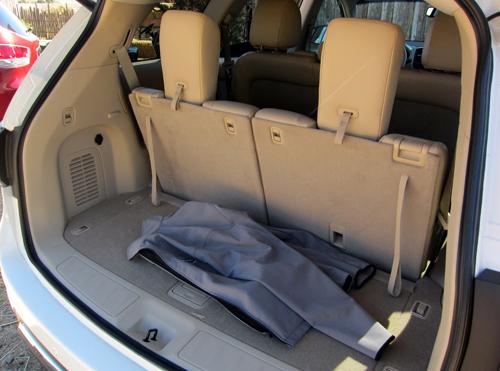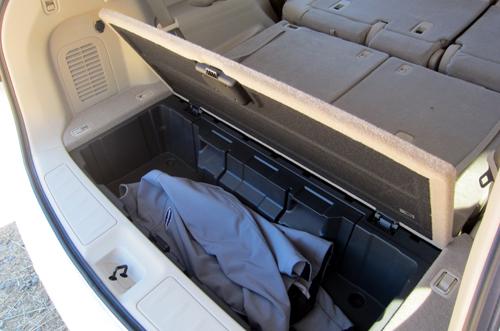 Still, the Pathfinder's handsome cabin styling and driving refinement — tires notwithstanding — should help family buyers overlook that. Can Nissan find the sales success of a Pilot or Explorer? Established automakers and small players alike have struck out (see: Hyundai Veracruz and Subaru Tribeca) in the attempt, but we suspect the Pathfinder won't go their way. With six SUVs and a minivan in its lineup, Nissan has strong people-hauling credentials. It's missed a big chunk of the market for years, but at long last, the new Pathfinder resolves that.
Related
2013 Nissan Pathfinder Priced at $29,095
2013 Nissan Pathfinder: From Tough Guy to Family Guy
More Automotive News