Urban Car Dealers Get Creative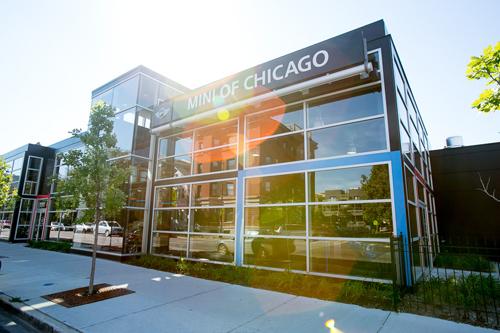 In most of the country, the car dealership is a standalone building on a strip of road. Sometimes it's a road lined with dealer upon dealer so shoppers don't have to go far if they're cross-shopping. In recent years, these "storefronts" have grown to gigantic proportions with upscale showrooms and service waiting areas with cappuccino machines and free Wi-Fi. The industry has a term for this: the "dealership as destination."
But what about dealerships in the big city? When you think of a city like New York or Chicago, car dealerships don't usually come to mind. Urban density makes creating a dealership you want to visit a lot harder without the luxury of suburban sprawl to build on.
We found three such dealerships around Cars.com's Chicago offices, and the results made for some innovative facilities tucked into urban Chicago, which tied Miami for the fifth-priciest U.S. city in Mercer's 2012 cost-of-living survey. Check them out below.
Open since June 2011, Mini of Chicago's glass-panel showroom is tucked just east of a parking lot where you can shoehorn around 100 Minis two deep without obstructing the dealership's 21 service bays. The showroom sports 25-foot ceilings, yellow end tables and a Chicago Blackhawks oil painting. Given the location — just over a mile south of Wrigley Field — foot traffic is huge.
"We have a ton of dogs come in," General Manager Steve McDonald says. "We actually have a water dish out front."
The 28,000-square-foot property used to be a Saab-Lincoln-Mercury dealership, and McDonald says the brick-lined service area carries over. One of the biggest challenges is finding test-drive routes around the dealership's urban environs. Salespeople take customers 1.6 miles east to Chicago's Lakeshore Drive, but traffic often puts a fast kibosh on much fun.
That's OK, McDonald chuckles. His easiest sales tactic to sell a Mini to a Chicagoan: "You just pull it into a really tight parking spot."
---
Even at 80,000 square feet, this building isn't enough to contain the entire operation. Across the street, an open lot holds Sprinter commercial vans. A separate facility five minutes away stores another 300 cars and several dozen service bays, General Sales Manager Mark Hoegler says. All told, he reckons Mercedes-Benz of Chicago has some 180,000 square feet — and most of the cars can be browsed inside, a big help during the winter.
"It's one big massive parking garage that's designed like a car dealer," Hoegler says. "To get the cars in and out, we have the two lifts. Customers can go up and down in them if they want. Kids like it."
---
Less than a mile northwest of the Sears Willis Tower, Fiat of Chicago shows just how little space you need for a car dealership. The showroom, which opened just three months ago, packs dozens of Fiat 500s into just 13,000 square feet at the bottom floor of a 16-story residential building alongside the Kennedy.
The showroom has plenty of Fiat flare: dueling murals of Italy and Chicago, red ceilings, espresso machines and Italian and American flags. The 500s are packed like sardines along the showroom's west wall, but General Manager Carmelo Scalzo says there are enough combinations that customers usually find what they're looking for. Drivers can drop off and return cars for service at the dealership, but most of the work takes place at Scalzo's other store, a Volvo dealership in the nearby suburb of Oak Park.
One urban dilemma he faces is where potential customers can actually park. A dozen parking spaces are being added out front of the showroom "as soon as that gets rezoned," Scalzo says. But in the meantime, shoppers will have to share space with dealership cars in a 14-space garage behind the showroom. Otherwise they'll have to pay to park in the surrounding blocks. Balk all you want, but free parking in downtown Chicago is like cheap tickets to a Bears game: Neither one exists.
Cars.com photos by Evan Sears
Related
Upscale Restaurant Opens Inside Mercedes-Benz Dealership
Tesla's Not-So-Typical Dealership
More Automotive News