Electric iQ Joins Car-Sharing Programs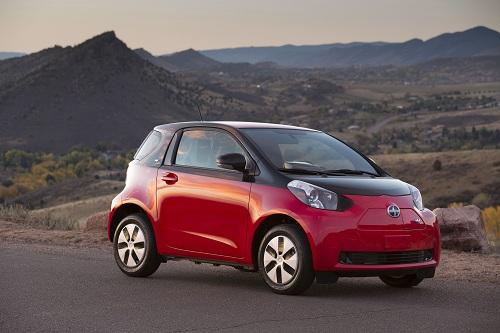 An all-electric version of Scion's iQ microcar is set to join several on-campus and urban car-sharing programs throughout the country.
The 2013 Scion iQ EV uses a 12-kilowatt-hour battery that provides up to 50 miles of pure electric driving. Toyota says it can be fully charged in three hours when connected to a 240-volt power source. Total output from the electric drivetrain is 47 kwh — equivalent to 63 horsepower — and 120 pounds-feet of torque. Along with various energy-saving technologies, there are three unique EV driving modes and regenerative braking.
"Toyota developed the iQ EV specifically as a city commuter, for use in an urban environment, where driving distances are likely to be short, charging opportunities numerous, and its compact proportions beneficial," Chris Hostetter, vice president of strategic planning for Toyota Motor Sales, said in a statement.
The outside of the iQ EV gets unique wheel covers with black vents, a front charging port in the redesigned bumper, two-tone paint colors and functional battery cooling vents in the headlamp assemblies. Inside, the EV gets heated seats, a 7-inch multimedia display with navigation, leather-wrapped steering wheel, sculpted center console, plug-patterned blue-gray cloth seats with white stitching and metallic ice-blue trim throughout the cabin.
While there is no word yet on whether the iQ EV will be available for the consumer market, Hostetter assured these car-sharing programs "will further expand Toyota's comprehensive portfolio of advanced technology vehicles." About 90 iQ EVs will be made available, and Toyota will announce more program details during the next couple of weeks.
Related
Cars.com Reviews the 2012 Scion iQ
2012 Scion iQ Video
Is the U.S. Ready for Microcars?