In last month's used-car price report,
we were surprised
to see the average price for a used Lexus RX 350 spike nearly $6,000, making it one of the biggest price movers September. Well, it's one month later, and the party is already over. All of the RX's September gains — and then some — were erased in October with a 17-percent drop ($6,954) to $32,927.
Have overly confident sellers been humbled, or is there another force at work? Whatever the reason, the RX saw the biggest drop in October — a tough prescription to swallow for some sellers, I'm sure.
The Ford Crown Victoria continues this month's trend of price reversals. The Crown Vic saw the biggest price drop last month, but it recovered about half of its dollar losses in October with a 7-percent increase to $13,652.
Overall, late-model used prices dipped again in October, the fourth straight month of declines. The rate of decline was slower, as the average price was down just $42 to $21,917 when looking at 2009 to 2011 models. October's average price remains $121 higher than January's average price, however.
The charts below details the top 10 used cars from the 2009 to 2011 model years with the biggest price drops, as well as the 10 with the biggest increases. To be eligible for the list, a model must have 500 cars in Cars.com's national inventory.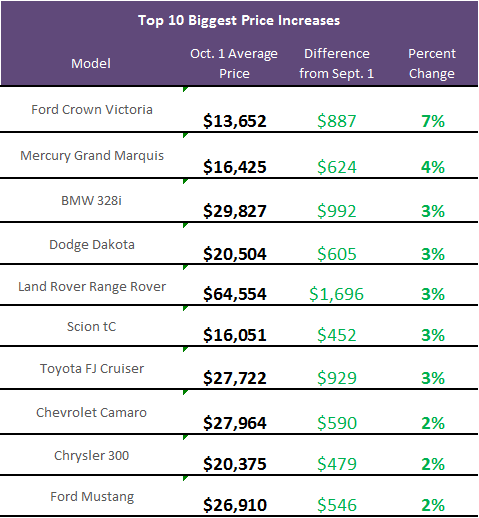 Source: Cars.com used-car listings, 2009 to 2011 model years
Related
Lexus RX 350
Now Is the Time to Buy a Used Ford Crown Victoria
More Automotive News