New Sedan Coming to A3 Lineup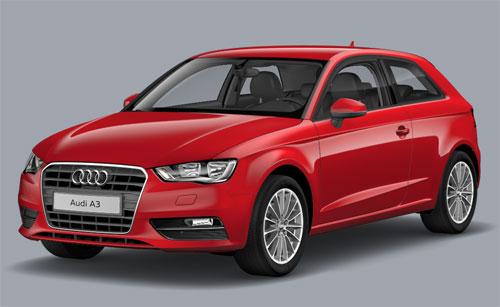 Last year we got our first glimpse of the Audi A3 sedan. The next-generation A3, which is already on sale in select European markets, will arrive on U.S. shores within the coming year, according to Car and Driver Magazine. When it does, it will be available in hatchback, sedan and convertible body styles, further expanding Audi's entry-level model.
The new A3 is available in Europe in SE, Sport and S Line trims, with a gasoline or diesel engine. The current U.S.-spec 2013 A3 is available with a diesel or gas engine, but only as a four-door hatchback.
The 2014 A3 four-door hatchback will come with just one engine: a turbocharged 2.0-liter four-cylinder, according to Car and Driver. And only one trim level will be available at launch, the A3 Sport. In Europe, the Sport trim comes with 17-inch alloy wheels, a sport-tuned suspension and Rallye cloth seats. Although Audi offers a two-door hatchback model, there are no plans to bring it to the U.S., Car and Driver says.
Audi's most important body style for America will be the A3 sedan, according to Car and Driver. Sedans are more popular in the U.S., and the new A3 would compete better against a growing tide of subcompact luxury vehicles, including the Buick Verano, Acura ILX and, most importantly for Audi, the upcoming Mercedes-Benz CLA. Along with the sedan, a power-operated cloth-top A3 convertible is also in the works, according to Car and Driver.
We expect to get more details on the 2014 A3 in the coming auto-show season.
Related
The Next-Gen Audi A3: The Body Styles We'll Get (Car and Driver)
Audi A3 Concept at 2011 Geneva Motor Show
More Audi A3 News