Recall Alert: 2007-2008 Acura TL, 2003-2007 Honda Accord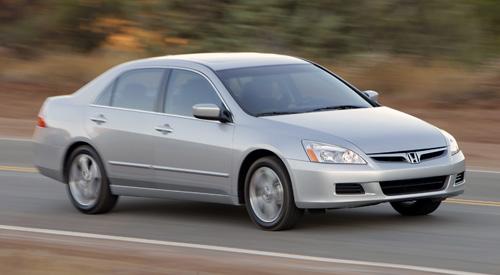 Honda is expanding an earlier recall of more than 56,000 model-year 2007-08 Acura TL sedans and adding 2003-07 Honda Accords to the recall. The automaker is now recalling 625,762 units of the TL and V-6-powered Accords because of a faulty power-steering hose, according to the National Highway Traffic Safety Administration.
In the affected vehicles, the power-steering hose may deteriorate over time and leak fluid. This could lead to a loss of steering control. If power-steering fluid leaks onto the catalytic converter, it could start a fire.
Owners affected by the first recall were notified in June; Honda will notify owners of the expanded recall starting on Oct. 26. Dealers will replace the affected parts free of charge, but NHTSA is reporting that sufficient parts are not yet available and won't be until early next year. Owners can call Honda at 800-999-1009 or NHTSA's vehicle safety hotline at 888-327-4236 for more info.
Related
Recall Alert: 2007-2008 Acura TL
More Safety News on Cars.com
Check out Other Recalls