September's Fastest- and Slowest-Selling Cars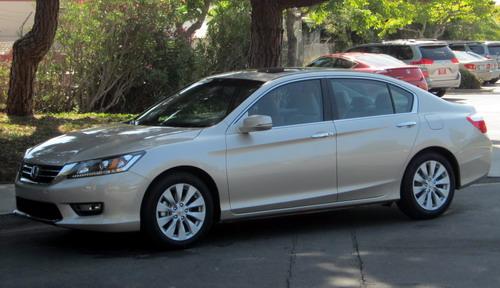 Honda is off to the races with the redesigned Accord, which averaged just five days to move after the sedan hit dealer lots Sept. 19. The Accord coupe arrives on Oct. 15. The 2013 CR-V — virtually identical to the redesigned 2012 — arrived at Honda dealerships on Sept. 6, and it too averaged just five days to sell. It's no wonder both cars helped drive Honda's 57% sales gains for the month.
Subaru, Toyota/Lexus/Scion and BMW also posted fast-moving cars, but one model in particular stood out: the Toyota Tacoma, whose extended and crew cabs averaged less than 10 days to move. Toyota lightly updated the truck for 2013 and threw a smidge more cash on the hood, but there's little hiding the fact that this is the current generation's ninth model year. Still, sales boomed nearly 50% for the month. Go figure.
On the flip side, Mitsubishi's slow-selling
i-MiEV
(198 days to sell) illustrates the slow-selling EV market. Its
Nissan Leaf
peer took 86 days to sell — not exactly a fast-turning figure, either — and even Nissan executives
lament the sales pace
. The
Toyota Prius Plug-In
averaged 51 days to sell, but the star of the plug-in show appeared to be the
2013 Chevrolet Volt
, which sat at Chevy lots an average of just 17 days possibly due to
incentivized lease deals
. The
Ford Focus Electric
and
Honda Fit EV
are selling fast, too, but neither one posted enough sales to draw any conclusions.
New cars in September averaged 65 days to turn — an uptick from August's 57 days, but seasonally expected given the broadening mix of 2013s and 2012s on dealer lots. It's in the neighborhood of September 2011's 61 days.
Here are September's fastest- and slowest-selling cars:
September 2012 Movers
September 2012 Losers
September 2012 Cars.com Picks
About the List
We changed the headline of Movers and Losers earlier this year, but we'll continue to call the lists themselves Movers and Losers. The Movers and Losers list reports the average number of days it takes to sell models from the day they arrive on the lot until the final paperwork is signed by a buyer. This is not a days-of-inventory list like you may find on other websites. We now focus on 2012 and 2013 model years.
For Movers, we only list vehicles that pass a certain threshold of sales in order to weed out limited editions, ultra-high-performance cars and others that might skew the numbers or otherwise inaccurately portray popularity. For Losers, we removed any threshold to reflect 2012 models that may have the greatest incentives.
Our Picks highlight cars that take a significant time before they're sold and might be overlooked by shoppers. Dealers could be more motivated to sell these cars.
Related
Top 10 Best-Selling Cars: September 2012
August's Fastest- and Slowest-Selling Cars
More Automotive News