Smart ForTwo Electric Is the Most Affordable EV at $25,000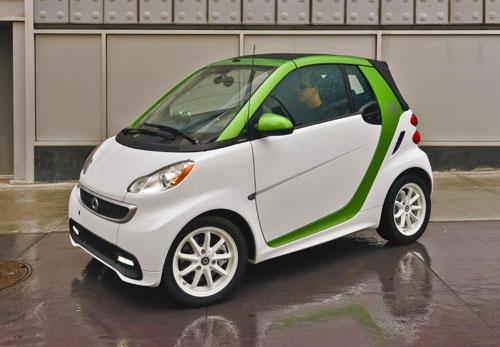 The third-generation Smart ForTwo Electric was unveiled and priced this week, as it officially debuted at the 2012 Paris Motor Show. The coupe starts at $25,000, the convertible at $28,000. (It's unclear whether the pricing includes destination.) That makes the ForTwo Electric the most affordable EV on the market today; the 2012 Mitsubishi i-MiEV costs $29,975, the 2012 Nissan Leaf $36,050 and the 2013 Ford Focus Electric $39,995.
Pricing is substantially better than the second-generation ForTwo electric, which started at $44,837, even though the model was only available through a $599-a-month lease program.
The third-generation model features a new electric-drive system that can propel the EV from zero to 60 mph in 12 seconds, with a top sped top speed of 78 mph — about the same acceleration and top-speed figures as the regular ForTwo. A new lithium-ion battery performs better and is more reliable, according to Daimler, Smart's parent. The 240-volt plug can charge the battery in just six hours; it took eight hours with the previous model. Smart hasn't stated the range of the new ForTwo Electric but says it will be better than the 63-mile range of the previous version.
All ForTwo Electrics come with standard automatic headlights and automatic rain-sensing wipers. The ForTwo Electric coupe and convertible will enter the U.S. market in the spring.
Related
Smart ForTwo Electric Available for $599 Lease Now, Purchase in 2012
2013 Smart ForTwo Electric Drive: First Look
Scion iQ EV Question Mark in Toyota's Hybrid Game Plan