Was Gas More Expensive Four Years Ago?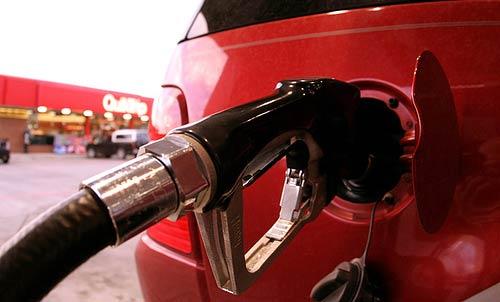 The price of fuel four years ago has been one of many hot topics discussed during this election year. A dizzying number of factors influence fuel prices, though whoever is in the White House often takes the blame when prices spike.
This year has set records for average fuel prices, but July 17, 2008, when a gallon of regular unleaded cost $4.11, still holds the highest national daily average, according to AAA's Fuel Gauge Report.
Even with 2008's record high and long stretch of days averaging over $4 per gallon, AAA's manager of public relations, Michael Green, predicts 2012 fuel prices will likely be the highest ever on record. The national average for 2008 of $3.25 per gallon — not adjusted for inflation — is lower than the current year-to-date average of $3.65. Adjusting for inflation still puts 2008 at a lower $3.48 per gallon using the Bureau of Labor Statistics' inflation calculator. Prices generally drop near the end of the year, so the yearly average will likely be a few cents lower than current prices, Green says.
Gasoline has remained expensive in 2012 for two reasons, according to Green. The price of oil has been costly all year long, and refinery disruptions have kept regional prices spiked. Tensions between the U.S. and Iran resulted in high prices earlier in the year, and this summer saw pipeline disruptions to the Midwest, Hurricane Isaac affecting refineries in the Gulf Coast and the recent refinery fire in California.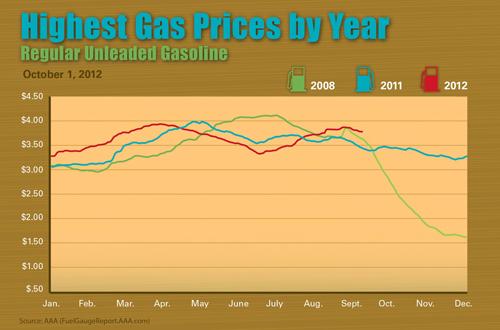 Fuel prices four years ago started similar to 2012's prices, at around $3 to $3.25 per gallon. The higher to-date average for 2012 is differentiated by oil prices plummeting in late 2008 because of a crashing economy that lowered the demand of oil. Prices dipped below $2 per gallon in late November and continued to fall to a low of $1.61 on Dec. 30, 2008. The lowest price in 2012, $3.27, was recorded on Jan. 1.

Related
Gas Prices Spiking
Gas Prices Surge as Isaac Slams Gulf Coast
Midwest Sees Dramatic Spike in Gas Prices