What Does This Button Do?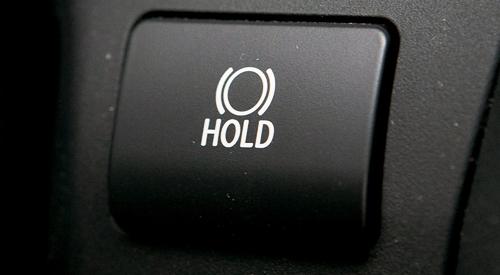 A proper front seat should comfortably support your body, but the Hold button in the 2013
Lexus GS 450h
looks more like a hug button that's used when you just need someone to hold you and say, "Everything is going to be alright." The GS' tagline could be, "Feeling lonely? Buy a Lexus GS 450h hybrid."
The Hold button is a convenience feature, and one that doesn't relieve loneliness. We all know that's what red sports cars are for.
The button activates the Brake Hold system that keeps the GS 450h in place, preventing it from rolling forward or backward when the gear selector is in Drive, Neutral or Sport. Brake Hold uses the GS 450h's electronic parking brake, which has an automatic mode that can activate the parking brake when the car is in shifted intoPpark.

A green indicator light illuminates on the dashboard when the system is turned on, and a yellow light lets drivers know when the feature is actively holding the vehicle in place. The brakes release once the accelerator is pressed.

The GS 450h is chock-full of features for its $59,845 starting price, including an $895 destination charge. The Brake Hold is one of those standard features — as it should be. If buyers had to pay extra for it, we'd suggest they just move the gear selector three inches forward into Park to make the car stay put without having to press on the brake.

Related

2013 Lexus GS Review

More Curious Buttons

Lexus News