2013 Ford Escape, Fusion Get Big Incentives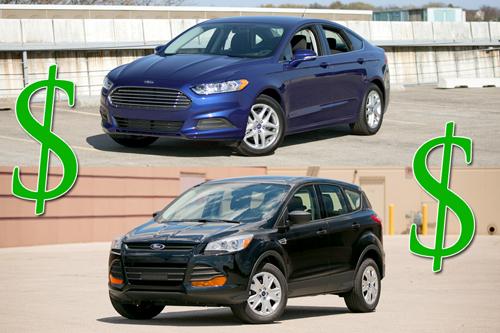 We've complained loudly that no matter how good Ford's new products may be, the price on the window sticker is generally higher than the competition. The competition these days happens to be pretty darn good, too.
Perhaps that's why Ford is putting some sizable incentives on the redesigned 2013 Escape compact crossover and just-released 2013 Fusion sedan.
The Fusion starts at $22,495, including a $795 destination charge, and $25,290 for the turbocharged 1.6-liter four-cylinder model. All non-hybrid Fusions get $1,000 cash back or a low financing rate through Jan. 2, 2013. The Fusion Hybrid gets $500 to $1,000 cash back depending on the region.
The Escape might have ranked last in our recent $25,000 Compact SUV Shootout, but the pricey trim level structure limited us to testing a base model with a price tag of $23,295, including $825 in destination charges.
Cash-back offers of up to $2,000 in some regions should help validate shoppers who were won over after reading our full review of the Escape. It was hard to find fault with the sharp-looking crossover especially with the SE model's turbo 1.6-liter engine, which starts at $25,895. The Escape's cash-back offer is split between customer cash — $1,000 to $1,500 available to everyone — and other incentives like owner loyalty or conquest cash.
Honda is offering low financing deals on its CR-V crossover, but none on its just-released 2013 Accord sedan. Nissan is offering lease deals on its new Altima sedan, and Kia has an easy-to-achieve conquest cash offer on its Optima sedan.
*Incentives vary by region and can be updated at any time by the automaker. Make sure to check the automaker's website for full details and all the small print.
Related
2013 Ford Escape Review
2013 Ford Fusion Review
What's the Most Affordable Compact Crossover?