Many of the reviews on the last Honda Civic — which debuted as a 2012 model — weren't kind to the popular compact sedan and coupe. While Cars.com said it would still recommend the Civic that didn't stop Executive Editor Joe Wiesenfelder from saying it "doesn't leapfrog its formidable competitors."
Honda had an inkling about that very problem from the start and worked to get the Civic an upgrade for the 2013 model year, which you can see above and below in EX-L Navi trim.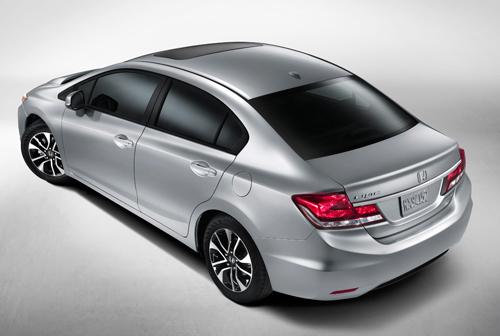 The 2013 Honda Civic sedan will debut at the 2012 Los Angeles Auto Show on Nov. 29, which is the same day it will hit dealerships. While the powertrain will remain untouched, Honda does say it "enhanced" safety, comfort, chassis and interior elements.
At first glance, we're surprised at just how much the exterior has been revised because the looks weren't the main issue many had with the car. Everything from the grille to the taillights have been overhauled to make the 2013 stand out from the 2012.
Expect the interior to see upgrades to materials, but we doubt it could be altered as significantly as the exterior in terms of style. There are no exterior changes in store for the coupe.
There are still plenty of 2012 Civics on dealer lots. Cars.com shows nearly 40,000 in its national new-car inventory. If you like the looks of the current model now is the time to track one down.
We'll have more information on the 2013 Honda Civic from the Los Angeles Auto Show at the end of the month.
Related
2012 Honda Civic Review
Cars.com Recommends the 2012 Honda Civic
Research the 2012 Honda Civic