2013 Nissan Murano: What's Changed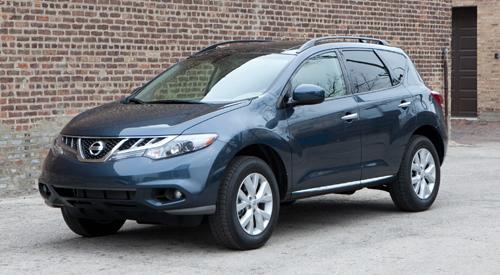 Most significant changes: Newly available safety systems
Price change: None on base models, but small increases on other trims
On sale: Now
Which should you buy, 2012 or 2013? If Nissan's new safety features appeal, the 2013.
Just like the redesigned-for-2013 Altima sedan, the Murano gets a host of newly available safety features for 2013. Aside from the new optional equipment, Nissan's midsize crossover and its base price carry over unchanged; higher trim versions jump slightly in price.
The Murano is again available in S, SV, SL and LE trims in two- and all-wheel drive. Newly optional on SL and LE versions is Nissan's Safety Shield technology. It includes several camera-based safety systems like Moving Object Detection, blind spot warning and lane departure warning systems. The Safety Shield features are part of the Navigation Package for SL models ($2,100) and Platinum Edition package for LE models ($2,350).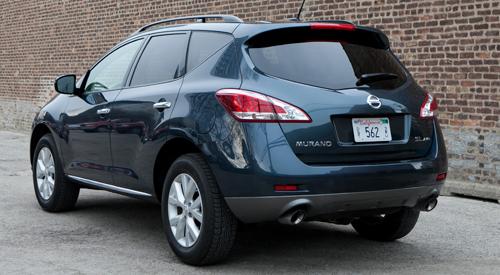 Also new is an SV Value Package that includes a power liftgate, Bose audio system and navigation for $2,270. Nissan says it's a savings of $830 compared with buying the features separately.
The 2013 Murano is on sale now. There's no word yet on 2013 pricing for the slow-selling Murano CrossCabriolet. However, Nissan spokesman Brian Brockman told Cars.com that the automaker plans to make a 2013 version of the convertible.
Continue below for full model pricing (all prices include an $825 destination fee):
S FWD: $30,785
SV FWD: $33,325
SL FWD: $38,135
LE FWD: 39,975
S AWD: $32,575
SV AWD: $34,925
SL AWD: $39,735
LE AWD: $41,575
Related
Research the 2013 Nissan Murano
2013 Nissan Pathfinder Priced at $29,095
High-End Safety Features Make Way Into 2013 Nissan Altima