2014 Porsche Cayman at the 2012 L.A. Auto Show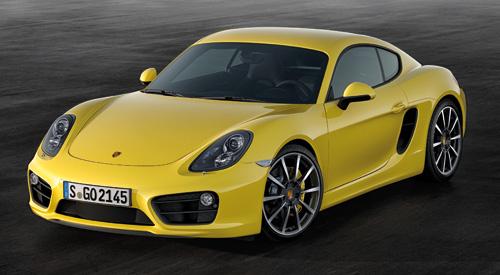 Competes with: Audi TT, BMW Z4, Lotus Evora
Looks like: The new Boxster's hardtop sibling has arrived
Drivetrain: 275-hp, 2.7-liter flat-six-cylinder or 325-hp, 3.4-liter flat-six-cylinder with six-speed manual or seven-speed dual-clutch automatic transmission; rear-wheel drive
Hits dealerships: Spring 2013
MSRP: $53,550 (Cayman) or $64,750 (Cayman S)
When Porsche showed a new version of its Boxster roadster earlier this year, we knew a redesigned version of its sibling, the Cayman coupe, couldn't be far behind. Now it's here, and its formula of less weight and greater efficiency is, not surprisingly, similar to the soft-top Boxster's. It hits dealerships this spring with a base price of $53,550, including a $950 destination charge.
The drive for better fuel efficiency has touched all segments of the car market, including the realm of high-priced sports cars where Porsche competes. You can see the results in the new Cayman, which makes slightly more power, weighs slightly less, gets better estimated gas mileage and is a little quicker to 60 mph compared with the previous model.
More 2012 L.A. Auto Show Coverage
The base Cayman is powered by a 275-horsepower, 2.7-liter flat-six engine while the S version gets a 325-hp, 3.4-liter flat-six; power is up 10 hp and 5 hp, respectively. As before, the engine is mounted behind the seats, and power is fed to the rear wheels through a six-speed manual or a seven-speed dual-clutch automatic transmission. The engine position improves weight distribution and enhances practicality, as the Cayman has front and rear luggage compartments that measure 5.3 and 9.7 cubic feet, respectively.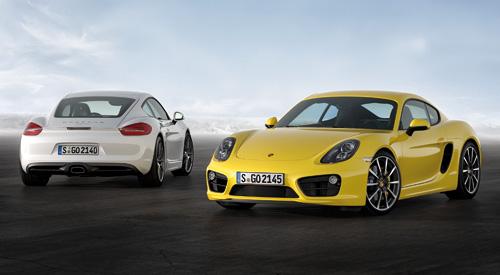 The Cayman can accelerate from zero to 60 mph in the low 5-second range while the S can sprint to 60 mph in the mid-4-second range, according to Porsche. The automaker estimates fuel economy to be as high as 22/32 mpg city/highway with the base engine and dual-clutch transmission, whereas the 2012 model was rated at 20/29 mpg.
The 2014 Cayman's new sheet metal consists of steel and aluminum pieces, and the car's overall curb weight is down 44 to 66 pounds, depending on the trim level. Like the Boxster, the new Cayman's exterior design builds upon familiar styling, as opposed to striking out in a different design direction. The new cabin styling, meanwhile, is similar to the Boxster's, featuring the same flow-through center console and dashboard.
The Cayman isn't the priciest Porsche, but its blend of handling poise and driver engagement has made it revered in sports car circles. The redesigned model's specs raise the bar in a number of areas, but the real test will be how it performs on your favorite winding road.