2013 Volkswagen Jetta Hybrid: First Drive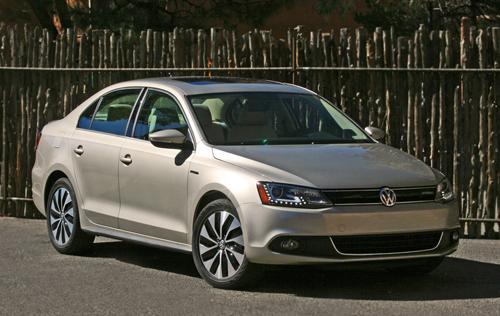 By Thom Blackett for Cars.com
In recent years, the Volkswagen Jetta — and other VWs — has been recognized for, among other things, its varied selection of gas and diesel engines. There have been four-cylinders, a proven five-cylinder, turbocharged gas and diesel offerings, and even a VR6 six-cylinder tossed in for good measure. With that, the introduction of the 2013 Jetta Hybrid shouldn't come as much of a surprise.
And yet, to some, it does. Logic would suggest the new hybrid variant would directly compete with, and quite possibly siphon sales from, the impressively fuel-efficient diesel-powered Jetta TDI, which has sold well with few discounts.
Volkswagen says that won't be an issue. According to company executives, the 2013 Jetta Hybrid "will attract new customers who don't consider the TDI to be a legitimate competitor to hybrids." Those same shoppers might still have negative connotations of diesel, or maybe they don't want to hunt for gas stations carrying the fuel.
To get a firsthand look at the Toyota Prius' newest competitor, I attended a Volkswagen media event in Santa Fe, N.M., where I drove a midlevel Jetta Hybrid SEL and a top-of-the-line Jetta Hybrid Premium. Models will arrive on dealer lots by late December with a starting price of $25,790, which includes a $795 destination charge.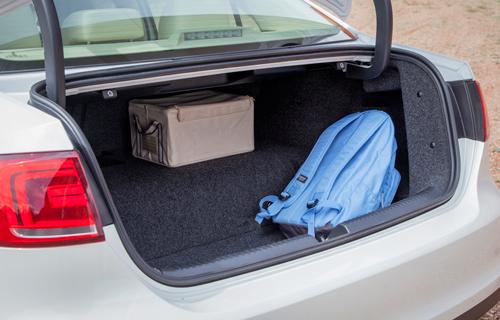 That sum — $995 more than a Prius and $800 more than a Honda Civic Hybrid — puts buyers behind the wheel of a spacious sedan that's noted for having generous rear legroom. But the cavernous 15.5-cubic-foot trunk of the Jetta takes a serious hit to accommodate a large battery pack. It is rated at just 11.3 cubic feet. The interior has also added some softer materials to the doors and dash in line with the Jetta GLI. But, more importantly for daily commuters, the Jetta's entertaining driving dynamics carry through to this new hybrid variant with promising gas mileage that may separate it from other hybrids on the market.
Although the perception is becoming increasingly outdated, any new hybrid model invariably raises the same question: Does it drive like a hybrid? In the Jetta's case, the answer is unequivocally no. Much of the credit goes to a powertrain that consists of a 150-horsepower, turbocharged 1.4-liter four-cylinder that works with a 27-hp electric motor, a seven-speed DSG dual-clutch automatic transmission and a 222-volt lithium-ion battery that captures, stores and delivers power as needed. Net output for the entire system measures 170 hp and 184 pounds-feet of torque, and the curb weight is 229 pounds heavier than the Jetta 2.5L.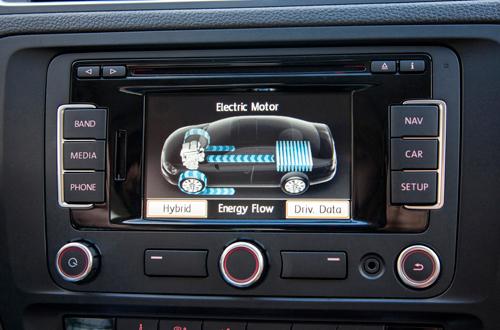 As I discovered over the course of roughly 100 miles, the Jetta Hybrid offers brisk acceleration free of turbo lag, plenty of low-end torque for merging into fast-moving traffic and top-end oomph when attempting a pass at high speeds, and seamless shifts from the DSG gearbox. That unit, by the way, offers a Sport mode and a manual-shift feature, both of which allow drivers to dial in a smidge more fun.
The 2013 Jetta Hybrid's handling is equally impressive, especially when fitted with optional 17-inch wheels. A multilink rear suspension shared with the Jetta GLI helps, too. On twisty mountain roads, the car felt planted and secure, the steering provided decent road feel, and I confidently tackled corners with considerable speed. Body roll was evident but not considerable. And, given the overly sensitive pedal response that can accompany a hybrid's regenerative braking system, I was pleased to find the Jetta Hybrid's stopping power to be easily modulated.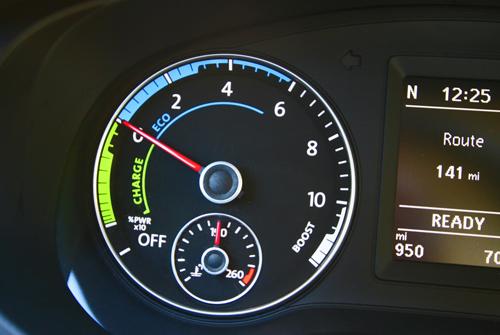 When driving at slower speeds and depending on road and weather conditions, tapping an E-Mode button located forward of the gearshift allows the Jetta Hybrid to travel up to 44 mph solely on electric power. When the gasoline engine eventually kicks in, the transition is almost imperceptible.
As this review is being written, Volkswagen officials remain tight-lipped about the 2013 Jetta Hybrid's fuel-economy figures, though it has announced an EPA combined rating of 45 mpg. That's well short of the Prius' 50 mpg estimated average, and a bit behind the 47-mpg Ford C-Max Hybrid. However, the Volkswagen does outmatch the Honda Civic Hybrid (44 mpg), the Toyota Camry Hybrid (41) and the Hyundai Sonata Hybrid/Kia Optima Hybrid twins (37 mpg). The Jetta TDI, by the way, has a combined fuel economy rating of 34 mpg. See a detailed side-by-side comparison here.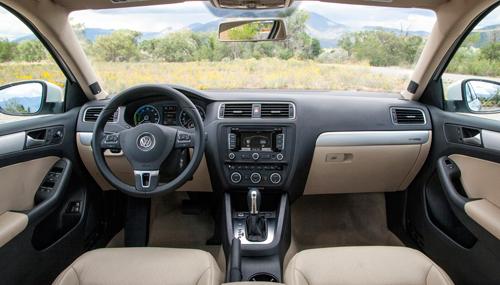 Though better than most, the Jetta Hybrid clearly doesn't match the Prius' outstanding efficiency, but Volkswagen hopes to lure Prius shoppers with a car that's more fun to drive and, well, doesn't look like a Prius.
That effort will face some challenges, as the differences between these two models extend beyond performance and fuel economy. Specifically, the Jetta Hybrid requires premium gasoline, while the Prius runs just fine on regular 87-octane gas. The smaller trunk also falls behind the Prius' relatively cavernous hatchback with 21.6 cubic feet. And, finally, availability will be limited to the sedan body style of the Jetta; a Jetta Sportwagen Hybrid is not in the works, VW says. The Prius, on the other hand, is available in three body styles, plus a plug-in version.
With the exception of its Touareg model, Volkswagen is late to the hybrid party. The Prius dominates the field, while others, such as the Ford Fusion Hybrid, continue to improve. The 2013 Jetta Hybrid, however, offers a blend of sportiness, refinement and fuel economy in a compact sedan package that helps distinguish it in the hybrid world.
Cars.com photos by Thom Blackett. Manufacturer images courtesy of Volkswagen.
Related
Research the 2013 VW Jetta Hybrid
Research More Hybrids
More Hybrid/Alternative Fuel News