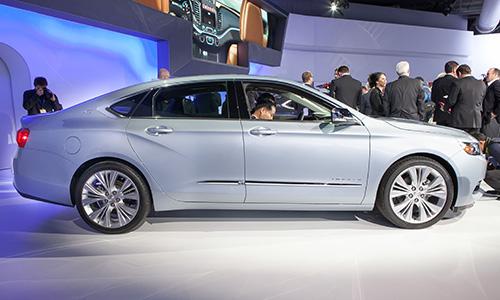 Chevrolet's redesigned 2014 Impala will cost about 3% more than the 2013 model. The new model will start at $27,535, including an $810 destination fee, Chevy says. The 2013 Impala started at $26,685 with an $825 destination fee.
For the extra money, 2014 Impala owners get an updated design with a power-dome hood, sculpted bodyside molding, pronounced rear fenders that hark back to Impalas of the late '60s and a wider, Camaro-influenced grille. Drivetrain choices are a more fuel-efficient 182-horsepower, 2.4-liter four-cylinder with Chevy's eAssist mild-hybrid system; a 195-hp, 2.5-liter four-cylinder; and a 305-horsepower, 3.6-liter V-6. Chevy's best-selling sedan retains its front-wheel-drive setup and uses a standard six-speed automatic transmission.
The car will be offered in LS, LT and LTZ trim levels. The 3.6-liter engine will come to market first, with a starting price of $30,760 for the LT and $36,580 for the LTZ, including destination. The 2.5-liter engine is priced as follows: $27,535 for the LS, $29,785 for the LT and $34,555 for the LTZ. Pricing for the 2.4-liter engine with eAssist will be announced later.
The 2014 Impala will go on sale in the spring.
Related
2014 Chevrolet Impala at the 2012 New York Auto Show
2014 Chevrolet Impala Marks End of Front Bench Seats in Cars
2014 Chevrolet Impala: Up Close