2014 Fiat 500L at the 2012 L.A. Auto Show
Competes with: Mini Cooper Countryman, Volkswagen Tiguan, Ford Focus hatchback
Looks like: Fiat's take on the Mini Cooper Countryman
Drivetrain: 160-hp, turbocharged 1.4-liter four-cylinder with six-speed manual or six-speed dual-clutch automatic transmissions; front-wheel drive
Hits dealerships: Mid-2013
Fiat may not yet own all of Chrysler, but its namesake brand's inexorable march into the U.S. market continues with the 500L, which is far from just a four-door version of the 500. For starters, Fiat says the 500L sits on its new "small-wide" platform, giving it 27.5 inches of extra length compared with the non-turbo 500. It's also about 6 inches longer and wider. That puts its footprint between a Mini Cooper S Countryman (5.3 inches shorter) and a Ford Focus hatchback (4.5 inches longer). The 500L could be cross-shopped against either, or dozens of other compact crossovers or hatchbacks.
More 2012 L.A. Auto Show Coverage
With its beady headlights and taller stance, the 500L looks like a cross between a 500 and a Countryman. The rear, too, has beadier elements, with a split lower panel that recalls — in an awkward way — the pre-face-lift Subaru B9 Tribeca. Fiat says it drew styling inspiration from seven Fiats past and present, including the 1980 Panda and 1998 Multipla. Thankfully, the ghastly Multipla appears to play a minimal role.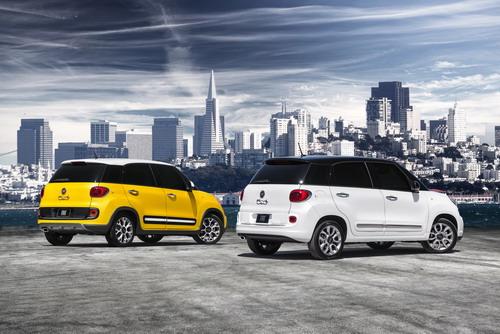 Trim levels are Pop, Easy, Trekking and Lounge. (Yes, "Easy." Remember, this is from the automaker with trims like Citadel and Detonator, and an eight-section 500L press kit with words like "physiognomy" and "iconicity".) Alas, the Trekking model does not have a warp drive and phasers. Fiat says it's supposed to offer "rugged styling and versatility," but it's mostly a cosmetic job — unique bumpers and side moldings, 17-inch wheels and a two-tone interior — as it remains a front-wheel-drive car with just 0.6 of an inch more ground clearance than a 500. Sixteen-inch wheels are standard.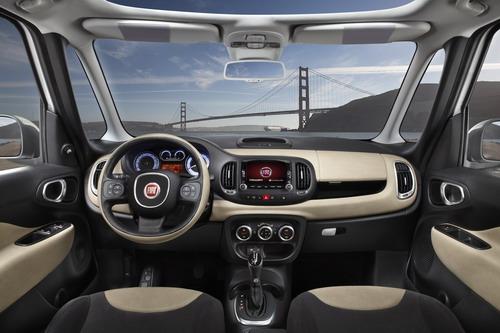 Fiat says the 500L's cargo floor sits just 26.2 inches off the ground, providing one of the better lift-over heights in the segment. Inside, the automaker integrated narrow corner windows into the thick A- and D-pillars for what the brand calls near-360-degree sightlines. We'll have to see it up close to weigh in. The 500L adopts the Uconnect system from sibling company Chrysler's cars with 5- or 6.5-inch screens; the system includes Bluetooth phone and audio streaming, with an available navigation system. A trim piece across the upper dashboard can come painted or wrapped in vinyl, and the steering wheel can have a two-tone rim. Fiat will offer seven fabric or two leather seating upholsteries, while an optional dual-pane moonroof spans both rows of seats. Other options include Beats audio and a backup camera.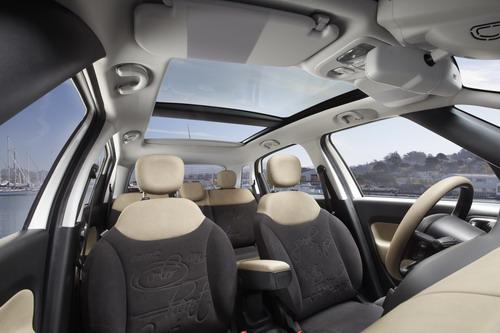 The 500L gets Fiat's 160-horsepower, turbocharged 1.4-liter four-cylinder, with torque uprated to 184 pounds-feet, up 14 pounds-feet versus the 500 Abarth. A six-speed manual transmission is standard, with a six-speed dual-clutch automatic optional on the Easy and Trekking. The 500L Lounge gets the automatic standard. Gas mileage has yet to be determined. Fiat recommends premium fuel for maximum performance but says the cheap stuff will do, too.
Like the 500, the 500L gets a semi-independent, torsion-beam rear suspension. Many competitors use fully independent rear suspensions, but other automakers have managed decent ride control with the humble torsion beam (see: Chevrolet Cruze, Hyundai Elantra) so we'll reserve judgment until we drive one.
All-disc antilock brakes, seven airbags, active front head restraints and the required electronic stability system will be standard. Stay tuned for our up-close impressions at the L.A. Auto Show.
Clicking on any image below will launch a larger photo gallery; you can browse through them by hitting the right and left arrow keys.