2014 Kia Forte at the 2012 L.A. Auto Show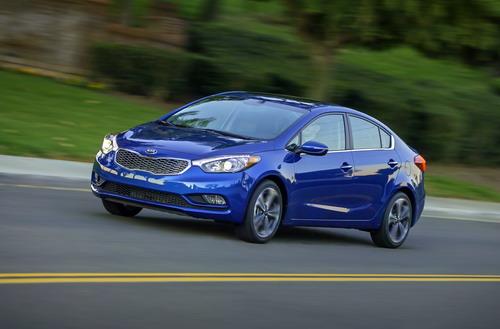 Competes with: Chevrolet Cruze, Ford Focus, Honda Civic, Toyota Corolla
Looks like: A Kia-fied Hyundai Elantra
Drivetrain: 148-hp, 1.8-liter four-cylinder with six-speed manual or six-speed automatic or 173-hp, 2.0-liter four-cylinder with six-speed automatic; front-wheel drive
Hits dealerships: Early 2013
Kia sales are up 18% this year despite the fact that one of the brand's staple products, the Forte, has been around since mid-2009. That will change with the nameplate's 2014 redesign, which is longer and wider than its predecessor. Characteristic of Kia, it will offer amenities unusual to the class. The second-generation Forte sedan hits dealerships early next year; there's no word yet on forthcoming redesigns for the Forte hatchback and Koup. If there is, we hope Kia will learn to spell "coupe" correctly.
More 2012 L.A. Auto Show Coverage
Styled in part at Kia's Southern California design studios, the Forte has a similar windswept profile as the Elantra from related automaker Hyundai. LEDs accent the headlights, and the lower bumper cutouts borrow cues from the stately Volkswagen Passat. Length and width are up 1.2 inches and 0.2 inch, respectively, and Kia says the new Forte rides about a half-inch lower than its predecessor.
We don't have photos of the interior, but Kia promises a cabin awash in "gentle ripples" and "organic curves." An optional 4.2-inch LCD screen with a trip computer and vehicle settings sits between the gauges. Trim levels include the LX and EX, and as compact cars go, the LX comes well-equipped. Steering-wheel audio controls, Bluetooth connectivity, power windows and locks, and air conditioning are standard. Move up to an EX with options and you can get a backup camera, xenon high-intensity-discharge headlights, a power driver's seat, dual-zone automatic climate control, heated leather front and rear seats, and a ventilated driver's seat — not typical compact-car fare.
The Forte LX has a port-injected 1.8-liter with 148 hp, and the EX gets a direct-injected 2.0-liter four-cylinder with 173 hp. Expect a noticeable bump in passing power with the 2.0-liter thanks to its extra torque (154 pounds-feet versus 131 pounds-feet in the LX). Both engines work through a six-speed automatic transmission, though a six-speed manual is available on the LX. An Eco Package adds a stop-start system that should improve gas mileage, but mpg figures are pending. The Forte represents Kia's first shot to regain the vaunted 40 mpg EPA highway figure that's fast become par for the course among compact and subcompact cars. Several Hyundai and Kia models fell off the 40-mpg wagon after this month's EPA mileage downgrades.
A 2-inch-longer wheelbase could help the Forte's ride quality, but the revised suspension still employs a semi-independent rear torsion beam rather than the fully independent setup Honda, Mazda, Dodge and Ford use in their compacts. Still, Hyundai managed decent ride quality in the Elantra with a semi-independent rear, so we're anxious to drive the Forte. Kia swapped out the car's hydraulic power steering for a more efficient electric setup, with Comfort and Sport modes in an optional Flex Steer Package. Fifteen, 16- and 17-inch wheels are available.
Stay tuned for our up-close impressions at today's L.A. auto show.