Cars.com's Mileage Tests of Hyundai and Kia Vehicles In Line With EPA Results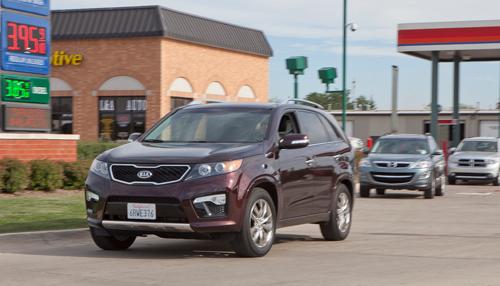 In the wake of today's news that Hyundai and Kia will reimburse owners for bad mileage estimates, we've compiled the results of our mileage tests from Shootouts and other challenges we've conducted over the past few years that involved the affected cars and SUVs.
In September 2011, we took the previously 40-mpg-rated Hyundai Elantra and pitted it against special "fuel-saving" trims from the competition designed to eke out a few mpgs more to hit that vaunted 40 mpg highway figure. The Elantra's new highway rating is 38 mpg, and its combined rating dropped to 32 mpg from 33.
Our results put the Hyundai in last place.
All four of those compacts were rated virtually identically by the EPA:
2012 Ford Focus SFE: 28/40/33 mpg city/highway/combined
2011 Ford Fiesta SFE: 29/40/33 city/highway/combined
2011 Hyundai Elantra: 29/40/33 city/highway/combined
2012 Hyundai Accent: 30/40/33 city/highway/combined
The four test models were sedans, and except for the Elantra (a Limited trim), all were similarly equipped. All four had automatic transmissions.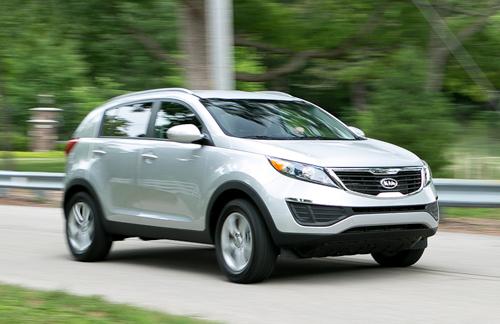 Yet in our recent Compact SUV Shootout in July, the Kia Sportage and Hyundai Tucson returned mileage that was very similar to their competitors. Now, the EPA's newly audited numbers saw very modest adjustments for these models, and some trim levels saw no change in combined mileage.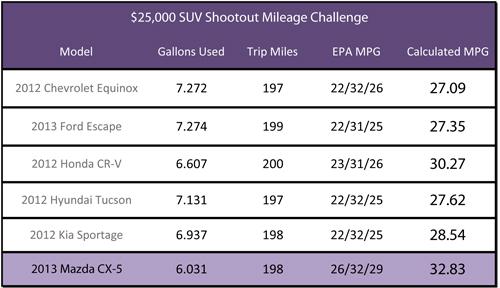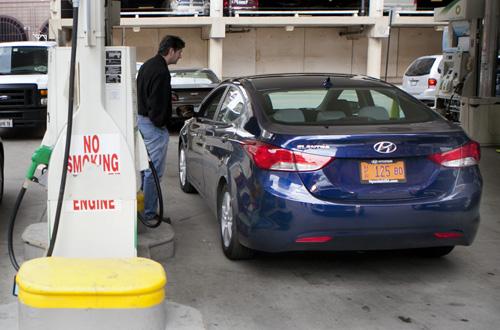 We tested the Elantra before, in June 2011, against the competitive compact class that it had made a big splash in with its redesign and, of course, that 40 mpg highway rating.
With the highest EPA ratings in the test, the Elantra came in second, behind Honda's Civic.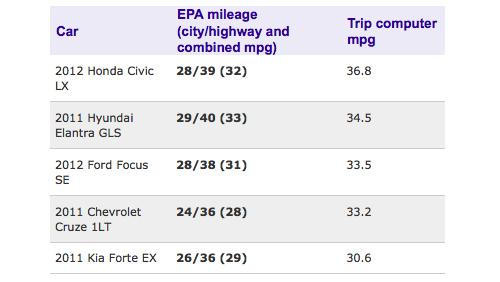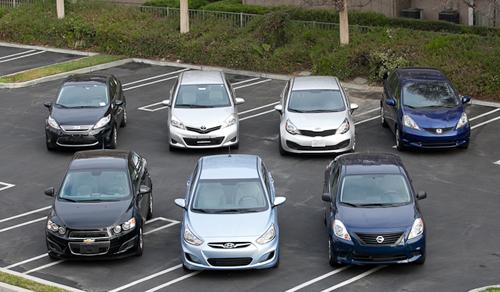 In March, we conducted a Subcompact Shootout that included the Kia Rio and Hyundai Accent, whose mileage ratings saw more drastic cuts as a result of EPA's investigation. The Rio dropped by 2 mpg combined and up to 4 mpg on the highway. The Accent's EPA numbers dropped by 2 mpg combined and by 3 mpg highway.
In our Shootout, the two underperformed not only their stated mileage but most of the field as well. However, due to the lack of a trip computer, we had to use our own calculations.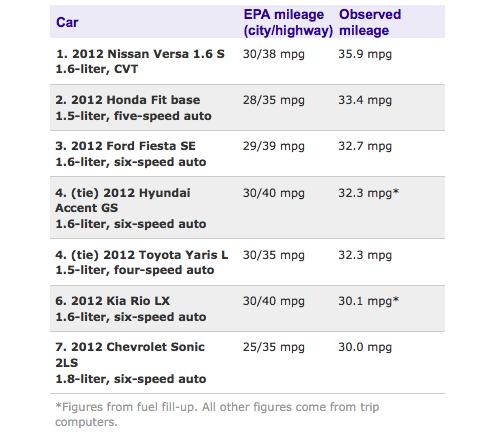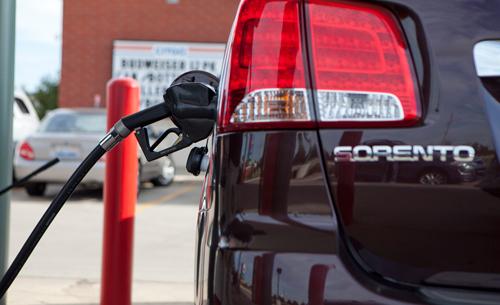 The Kia Sorento was included in our
Three-Row Crossover Shootout in October 2011
, going up against larger and thirstier competition. The Sorento finished in first place with an average of 25.4 mpg versus its combined 22 mpg rating. But it was a close race: The Honda Pilot, rated at 21 mpg combined, returned 25.1 mpg; the 19-mpg-rated Dodge Durango returned 25 mpg.
Related
Hyundai, Kia to Pay 900,000 Owners for Bad MPG Estimates
Research Hyundai Models
Research Kia Models