Ford has a recent history of focusing on technology. Some of it has been successful like the first Sync multimedia system application and some a bit less so, see MyFord Touch.
The 2013 Ford Escape offers some useful high-tech features at a reasonable price; you gotta love the Active Park Assist, which helps parallel park the car, and the blind spot warning system that are both part of the $995 Technology Package, but the optional hands-free liftgate that opens with the kick of your foot might just be another one of those Ford ideas that needs a little more tweaking.
I want desperately to love this feature. I can't imagine a parent that wouldn't love the ability to magically open the liftgate without having to let go of your child's hand in a busy parking lot, dirty their hand by opening the tailgate manually or fish through their pocket or purse to find the key fob first before then pressing the remote button to open the liftgate. However, in the two interactions I've had with it, it has yet to work consistently.
My first experience with this feature was early this year at the Detroit auto show. I was trying to do a demonstration for a television segment about great new-car features for families. Luckily, it was a taped segment because it required about five takes for the liftgate to actually open and then close again when I swiped my foot under the rear bumper. I chalked that up to it being a preproduction model or having a learning curve. Is it a fast kick like a Rockette or a slow foot raise like a guy doing tai chi in the park? Is it a straight kick forward toward the car or a side-to-side swipe underneath? Clearly I just didn't have the right technique.
Ford recently set up another demonstration of the feature. Yet again, it didn't work the first time. It seemed to have improved some, though, since after that first hiccup it functioned for me the way it was intended to.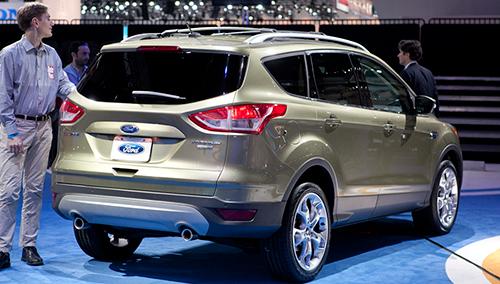 While brainstorming about this problem in the office, a coworker wished for a "bump" tailgate in which you can bump your rump (or elbow for that matter) on the liftgate and have it open. With Ford's current optional hands-free liftgate, he was a bit worried about balancing on one foot in an icy parking lot. However, I have no idea how the rump-bump liftgate would close.
According to Ford, 41% of 2013 Escape buyers are opting for this feature. Just think, Ford sold more than 250,000 Escapes in 2011 and is on pace to sell more this year. That means tens of thousands of people will be out in parking lots across the country kicking away at their Escape bumpers.
Have any of our readers purchased a new Escape with this feature or seen someone trying to use it in public? If so, is it working reliably? Is it indispensable or deplorable? Tell us in the comment section below.
Related
Research the 2013 Ford Escape 2013
Ford Escape Review
2013 Ford Escape Video