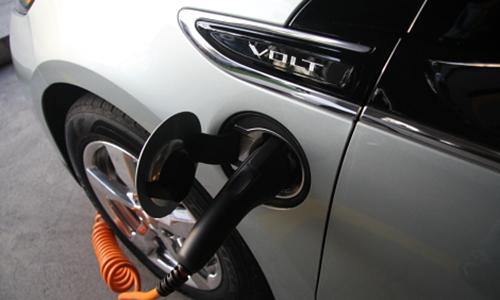 Call it a power play in the electric-car market: GM projects that by 2017 it will have as many as half a million vehicles on the road with some form of electrification. Its next plug-in vehicle will be the Chevrolet Spark EV.
The focus will be on plug-in technology; GM's introduction of the extended-range Chevrolet Volt has energized the automaker to focus on the electric-vehicle market.
"What started out as a technology proof point … has turned into a real-world starting point to push EV technology further and faster than we thought possible five years ago," Mary Barra, GM's senior vice president of Global Product Development, said in a statement. "The unique propulsion technology pioneered in the Volt … will be a core piece of our electrification strategy going forward."
Not all of that experience has been positive, though. A report released by Reuters in September alleged that GM loses tens of thousands of dollars on every Volt due to development costs. Although the automaker disputed that figure, it acknowledged that Volt profits would not be immediate, but insisted that startup costs would be spread over future models.
Much of the knowledge gained in developing the Volt has been applied to the creation of the 2014 Spark EV, GM said. The plug-in car will debut in a few weeks at the L.A. Auto Show and is expected to go on sale in certain U.S. markets in the summer.
A major selling point for the Spark EV is its quickness — not just off the line but also in recharging time, according to Chevy. It will use a lithium-ion battery pack, and the automaker expects the motor to be good for around 130 horsepower with a zero-to-60-mph time of less than 8 seconds. The car's newly developed charger will allow DC fast-charging of up to 80% of battery capacity within 20 minutes. That will provide a range on par with the best among its competitors, Chevy says. Using a 240-volt outlet, the Spark EV can be charged in in less than seven hours, according to GM, and a 120-volt charging cord is standard. Like the Volt, charging can be managed using a smartphone app.
When GM's transmission plant outside Baltimore begins manufacturing the Spark EV's motor and drive unit early next year, it will be the first time a U.S. automaker has built both systems in their entirety for a modern electric vehicle in the United States, according to Chevy.
GM says it is on track this year to sell more than 50,000 vehicles with electrification. That estimate includes the Volt and eAssist gas-electric hybrid technology on the Buick LaCrosse and Regal and the Chevrolet Malibu. The 2014 Chevrolet Impala also will offer an eAssist model next year.
Related
Report: GM Loses Nearly $50,000 on Every Volt
Chevrolet Spark EV to Debut at L.A. Auto Show
More Chevrolet Volt News on Cars.com