Hyundai Veloster C3 Roll Top Concept at the 2012 L.A. Auto Show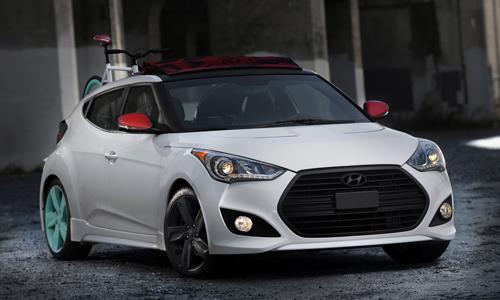 Looks like: A hipster-ized Veloster
Defining characteristics: Teal wheels and canvas, rolling roof
Ridiculous features: Floor made of broken skateboards and tiny tailgate
Chance of being mass-produced: Hyundai hasn't said, but we think it's unlikely
Think Hyundai is targeting a young, active audience? Its newest concept sports a convertible body style with a trucklike tailgate, along with an interior made of recycled skateboards and an exterior inspired by a fixed-gear bike. The Hyundai Veloster C3 Roll Top will likely never be produced, but it sure looks cool.
More 2012 L.A. Auto Show Coverage
The "C3" in the name stands for convertible three-door. It takes the three-door Veloster and adds a power-retractable canvas roof that can roll forward and back. Roll it back for open-air motoring; roll it forward and pop-down the tailgate to carry larger items, like a bike or surfboard.
Outside, Hyundai says the color palette was inspired by a fixed-gear bike—which apparently means a red, white, black and teal color scheme. High-gloss white paint is contrasted by a flat-black spoiler and front wheels, red canvas top, flat red side mirrors and flat teal rear wheels.
Power comes from the production Veloster Turbo's 201-horsepower, turbocharged 1.6-liter four-cylinder engine. Inside, black and red trim matches the car's exterior, and repurposed skateboards line the floor. The boards' gouged, scratched and colorful surfaces give the interior an electric vibe.
Clicking on any image below will launch a larger photo gallery; you can browse through them by hitting the right and left arrow keys.