Mazda Plans New RX-7 for 2017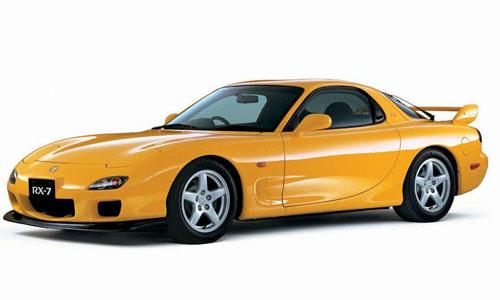 Although Mazda's RX-8 sports coupe was discontinued after 2011, the automaker is already planning its successor. According to Left Lane News, Mazda is resurrecting the RX-7 name for a new lightweight sports coupe. Don't get too excited, though; it likely won't be on sale until 2017.
Like the RX-8 and the original RX-7 (model-year 2001 pictured), which was canceled in 2002, the new version will use a rotary engine. Left Lane is reporting that it will use Mazda's next-generation 1.6-liter rotary engine. Horsepower is estimated at 300.
According to Mazda engineers, the car will use a lot of aluminum, making it as lightweight as its main competitors: the Scion FR-S and Subaru BRZ. The two-seat coupe will likely be based off of the next-generation MX-5 Miata platform, Left Lane reports.
Mazda told Left Lane that the car's price will fall between Nissan's sports coupes, which doesn't say much. Topline versions of the 2013 370Z start at $43,810 and the GT-R starts at $97,820 (all prices include a destination charge). In its final year, the Mazda RX-8 had an MSRP of $26,795, meaning the next RX-7 will be much more expensive by comparison.
The automaker has not returned our request for comment.
Related
New Mazda RX-7 to Launch by 2017 (Left Lane News)
More Mazda News on Cars.com
More Automotive News on Cars.com