The redesigned Mazda6 should turn heads. Its nose hunches forward with an angry expression; elements across the tail come together well, and the profile stays true to Mazda's Takeri concept from the 2012 New York Auto Show. This is no styling slam-dunk (think Kia Optima or Ford Fusion), but it differentiates Mazda from the segment's heavy hitters.
More 2012 L.A. Auto Show Coverage
So did the tepid-selling previous generation.
The cabin doesn't branch out in any new styling directions, but quality is good with upscale touches like fabric-covered A-pillars and handsome smoked-silver trim in the auto-show cars. There are also lots of physical buttons and heavily weighted knobs, which should distinguish it from its former platform mate, the Ford Fusion.
There are some misses: The door armrests are narrow, with sculpting that sends your elbows off them too easily, and from the tiny door pockets to the undersized center console, you'll have to get creative to find ways to stash the usual car junk.
Aside from a large center floor hump, the backseat is a good compromise between seat height and headroom. Mazda has yet to release volume figures for the trunk, which is deep but shallow. Still, the wide opening should allow for plenty of luggage, and the arm hinges go into channels — as the Fusion and Chevy Malibu do — instead of descending exposed to crunch any cargo stacked near the trunk's corners.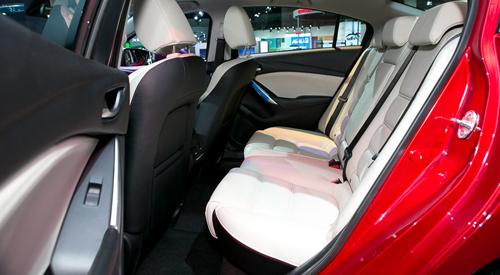 Although Mazda sidelined the V-6, spokesman Jeremy Barnes told me the Mazda6 lost around 200 pounds in the redesign. That should help the driving fun, as should a new direct-inject four-cylinder engine. Gas mileage is still pending, but Barnes said to expect EPA figures to be "very strong to all of the cars in the segment."
Power figures are still out for Mazda's 2.2-liter turbo-diesel, which arrives in the second half of 2013, but he promised "bags of torque" — typical of a diesel engine — as early prototypes have tested at more than 300 pounds-feet. That's well beyond the 2.0-liter diesel in Volkswagen's competing Passat TDI (236 pounds-feet) so if the Mazda6 diesel comes anywhere close, it could pack serious oomph.