Selling Our Nissan Leaf Was, Well, Weird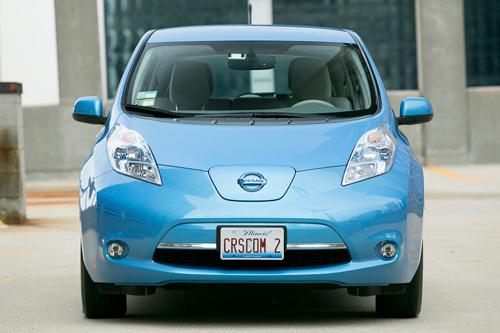 After 19 months of testing, Cars.com has sold its 2011 Nissan Leaf electric car. In my original review, I questioned how much a used EV would be worth once the second generation came out. Would it be as undesirable as a previous-generation smartphone?
Well, the Leaf, along with all other EVs, remains in its first generation, and still our long-term test car's resale proved to be a complex affair.
Sticker-priced at $35,665 as equipped when new, our loaded 2011 Nissan Leaf SL with 11,000 miles sold for $19,000 last week after 48 days of tepid interest. This represents depreciation of 47% ... but that doesn't tell the whole story.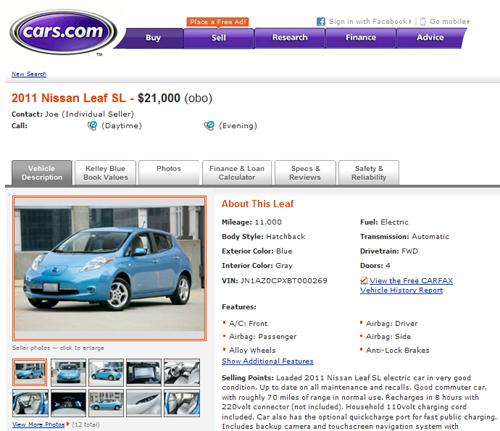 The federal tax credit of up to $7,500 (depending on the buyer's income, as we've reported) is clearly reflected in resale values. That alone decreased our car's effective sticker price, when new, to $28,165. Based on this figure, the depreciation would have been a still-disappointing 32%.
Selling our car in Illinois, we got a double-whammy, thanks to a generous $4,000 state tax credit, for which we didn't qualify when we bought our Leaf (out of state) in 2011. From the perspective of an Illinois buyer, before our car drove off the lot almost two years ago, it was already down to an effective MSRP of $24,165. Base our depreciation on that number, and our car had lost just 21% of its value when we handed it to its new buyer.
With these adjustments, our car's resale price doesn't look unreasonable. We looked up resale for a 2011 Nissan Sentra and a 2011 Altima, each with an unrealistically low 11,000 miles and in good condition. Their depreciation worked out to 27% and 26%, respectively. This is worse than the 2011 Leaf's theoretical 21% but not as bad as the 32% we actually saw because we couldn't take the additional $4,000 state incentive.
Our market doesn't make used Leafs very attractive, either. A comparably equipped brand-new 2012 Leaf SL would cost an Illinois buyer as little as $26,835 adjusted ($38,335 without tax credits). Clearly, our Leaf would appeal to specific types of buyers: out-of-state shoppers, anyone who doesn't like paying for initial depreciation or folks who don't have the upfront cash for the purchase ahead of an eventual tax credit.
Over 48 days we received fewer than 10 contacts, most of them serious, and showed the car to only three shoppers. One was the local representative of a Florida resident who seemed serious but who later vanished.
We started our Cars.com Sell It Yourself listing at an optimistic $27,000 asking price, describing the Leaf's condition as very good with all updates and recalls. We decreased it regularly, ultimately settling at $21,000 OBO before accepting $19,000.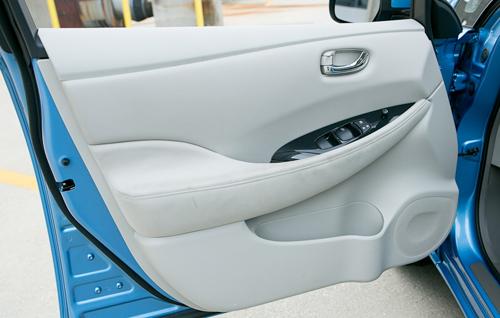 The ad didn't mention the Leaf's Cars.com ties. When we disclosed its ownership to prospective buyers, its history with Cars.com's editorial department didn't seem to bother anyone, or help its value. If anything, they were pleased to hear why we were selling it: We felt we had learned as much as we could about it after 19 months, and it had become mundane in its reliability. (We have to entertain the possibility, however, that some shoppers were turned off by its title designation as a corporate car — clearly presented in the free Carfax report attached to the listing — and as a result didn't contact us.)
Some shoppers said our car's mileage of nearly 11,000 miles (listed as 11,000 on the ad) seemed high. We purchased it in February 2011. Breaking it down by day, even a range-limited car this old could have piled on more than twice as many miles in normal use. But 11,000 still seems like a lot of miles compared with a typical 2011 purchased up to a year later. A local Nissan dealer grudgingly quoted us $19,000 when the process began, saying he had just paid less at auction for two other Leafs with fewer miles.
We also have to question the Kelley Blue Book value, $23,464. Even if our car were somehow unattractive, that wouldn't explain the similarity between our regional valuation and others in the country: Kelley values are tied to ZIP codes, but they clearly don't reflect our state-specific reality. All the regions I looked up that don't offer state incentives were within a few hundred dollars of our valuation - and most of them were lower.
Resale values take time to reflect reality, and it's possible recent news that some early, high-mileage Leafs in high-temperature regions that have lost battery capacity and range are depressing resale values in the real-world marketplace.
Anyone who has followed our testing knows we also owned a 2011 Chevrolet Volt; we sold that, too, but its May 2011 collision (divulged in the ad) proved a poison pill for most shoppers, even though it was professionally repaired and flawless since June 2011. Chevy dealers wouldn't touch it, and CarMax quoted us $21,000 but said it would wholesale the Volt rather than sell to a consumer. In the end, a local couple that had driven a 2012 Volt as a loaner bought it for $22,500. Sticker price was $43,105 as equipped with destination.
The Volt came up in twice as many searches as did our Leaf, which reinforces the greater interest (and sales) we've witnessed for new versions of each.
Related
Cars.com Adds 2011 Nissan Leaf to Green Fleet
Cars.com Compares 2012 Nissan Leaf with 2011
Cars.com's Nissan Leaf Passes One-Year Mark