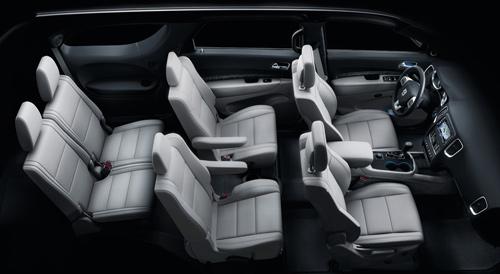 CARS.COM — I recently test-drove a luxurious, comfortable car that got decent gas mileage and came standard with a roomy third row. However, there was a problem: My son had to vault over the second row to get to his car seat in the third row. Because I had my girls' child-safety seats installed in the second-row outboard positions, this car's slick one-touch flip-and-fold feature was rendered useless.
For better or worse, my son's vault training didn't start with this car. Many cars on the market require athletic skills to access the third row once you have car seats installed in the second row. This is definitely something to consider if you — like me — have more than a couple of children in car seats and need a three-row vehicle.
A minivan is an obvious solution, but there are other options. One of the best ways to avoid this third-row-access debacle is to opt for captain's chairs in the second row, creating a little pathway to the third row. Several savvy automakers offer this option. While this may knock your second-row seating capacity down a notch, it also increases your possibility of getting children and even adults into the third row without resorting to vaulting.
Consider the Dodge Durango (photo above): It's long been popular for families, but it lacked practicality for those of us with three or more children because of the crossover's bench-only second row. For the 2013 model year, the Durango will offer second-row captain's chairs for the first time.
This option came about because customers wanted more seating choices, particularly with smaller children in the car, said Bob Broderdorf, product marketing manager for the Durango.
"Two crucial needs are the ability to access the third row with child seats installed in the second row and luxurious second-row seating for adults," Broderdorf said. The Durango's optional captain's chairs make "third-row access possible in any situation," he said. Captain's chairs are available on all Durango models and cost $795.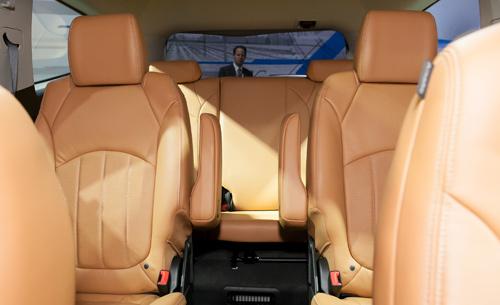 Over at Chevrolet, the Suburban, Tahoe and Traverse (photo above) all offer second-row captain's chairs. Similarly, the GMC Yukon, Yukon XL and Acadia also offer captain's chairs. A majority of consumers opt for the second-row captain's chairs, and nearly 80 percent of the GMC models purchased have them, said Fred Ligouri, a GM spokesman.
Although they'd been in production for many years prior, the Suburban and Yukon XL began offering optional captain's chairs during the 2000 model year, and the Tahoe and Yukon started offering them in the 2003 model year. The Acadia and Traverse, which debuted for 2007 and 2009, respectively, included the option at their onset. Clearly, some automakers are anticipating what families need in a crossover/SUV.
On the Suburban, Tahoe, Yukon and Yukon XL, captain's chairs are $590 on the midlevel trim and standard on the top-of-the-line trim. Captain's chairs are a $495 option on the 1LT trim and standard on the 2LT and LTZ trims. On the Acadia, they're not available on the base trim but standard on all other trim levels.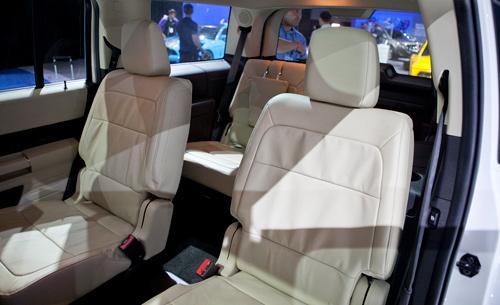 The story is similar at Ford. The genesis of the captain's chairs option on the Explorer and Flex (photo above) simply came about because the automaker listened to its customers, said Eric Peterson, Ford's utilities marketing manager. "[Ford] offers second-row captain's chairs both with a console and without. Different customers have different wants/needs, and by offering three configurations for Flex and Explorer, we can deliver what they are looking for," Peterson said. In the Explorer, captain's chairs are a $750 option on the XLT, Limited and Sport trims. On the Flex, it's a $650 option on the SEL trim and $750 on the Limited trim.
The Toyota Highlander has an ingenious solution to third-row access. Its standard second-row bench has a removable, narrow middle seat that can be stowed in the base of the front row's center console. It's the best of both worlds.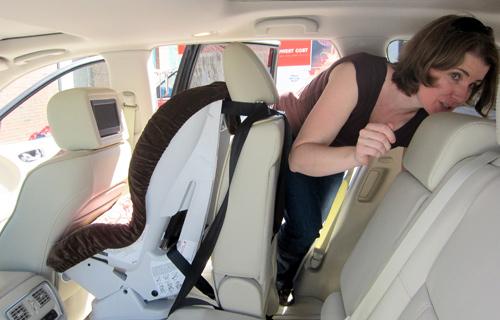 The revolution of manufacturers producing family-friendly cars is only just beginning, though. The all-new 2013 Infiniti JX35 (photo above) and the redesigned 2013 Nissan Pathfinder have introduced a sliding- and-tilting second row that offers third-row access even with child-safety seats installed in the second row. This now marks a new generation of bench seating with no vaulting required.
Related
2013 Nissan Pathfinder: From Tough Guy to Family Guy
Infiniti JX's Smart Second Row Means No More Squeeze Play
Crossover Buying Guide