The Volkswagen Beetle convertible and Beetle R-Line coupe should amplify the appeal of the redesigned Beetle. The power soft-top's operation couldn't be simpler: It opens and closes without any extra latches to fuss with, and it does it in about 10 seconds at speeds up to 31 mph.
More 2012 L.A. Auto Show Coverage
Top up, the Beetle convertible maintains the coupe's elongated profile. Top down, the car looks like a proper Beetle convertible, spillover boot and all.
Put the top up, and sightlines take a hit. The convertible top creates far-bigger C-pillars and swaps the coupe's large rear window for a squat, narrow one. As to be expected, you lose considerable space in the trunk opening, along with about half the volume, which shrinks to 7.1 cubic feet versus the Beetle coupe's 15.4 cubic feet. It's two or three cubic feet short of the larger Ford Mustang and Chevrolet Camaro convertibles, but Volkswagen executes the space well enough. The convertible top stows in a separate cavity, leaving trunk space unhindered, and cargo-area levers release the 50/50-split backseat.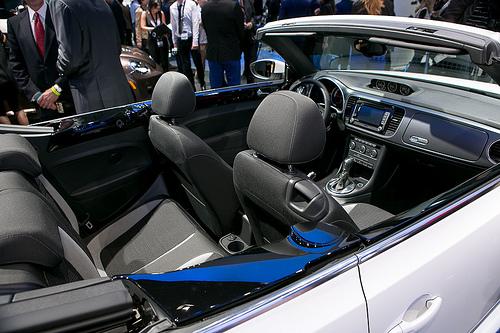 Speaking of the backseat, it's still pretty tight, casting doubt over Volkswagen's claim that the car represents "practical fun for four." Headroom is as tight as the coupe's, but the convertible has one important advantage: Encounter a bump, and your noggin will hit the well-padded convertible top. The coupe's hatchback frame is decidedly more painful.
I never liked the redesigned Beetle's maw-ish front bumper, and the R-Line cleans it up well. The three-opening front with a trapezoidal center opening is a well-worn styling treatment, but that's because it works. I wish it swapped in light-piped LEDs around the headlights instead of these jeweled ones – fast becoming passé, I suspect – but apart from that, the R-Line works. It's a shame VW has no plans to offer the R-Line in convertible form stateside. It could only help Beetle sales, which are ticking along at the Tiguan's pace.