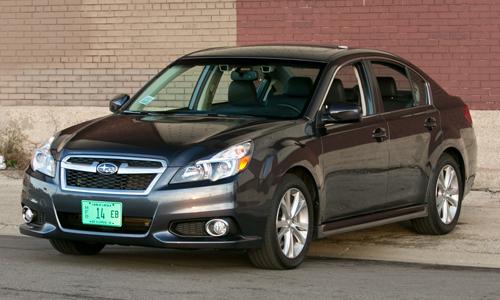 Subaru refreshed its
Legacy
sedan for 2013, but you're not alone if the changes don't look that obvious. The sedan got a modified grille, minor bumper design tweaks and larger fog lights. For families, the big news is its newly available suite of safety features. Subaru's Eyesight system combines adaptive cruise control, an auto braking system and a lane departure warning system.
As in previous years, the sedan's backseat is cavernous. A wide seat-bottom cushion and accessible Latch anchors make this a roomy, comfortable sedan for families.
For the Car Seat Check, we use a Graco SnugRide 30 rear-facing infant-safety seat, a Britax Roundabout convertible child-safety seat and Graco high-back TurboBooster seat.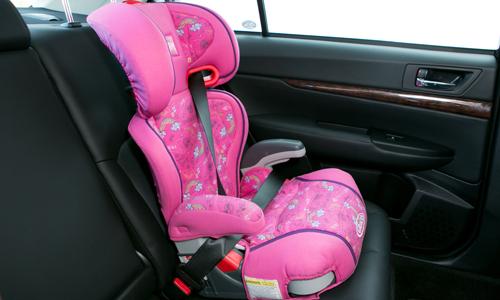 The front seats are adjusted to a comfortable position for a 6-foot driver and a 5-foot-8 passenger. The three child seats are installed in the second row. The booster seat sits behind the driver's seat, and the infant seat and convertible seats are installed behind the passenger seat. We also install the infant seat in the second row's middle seat with the booster and convertible in the outboard seats to see if three car seats will fit. If there's a third row, we install the booster seat and a forward-facing convertible.
Here's how the Subaru Legacy did in Cars.com's Car Seat Check: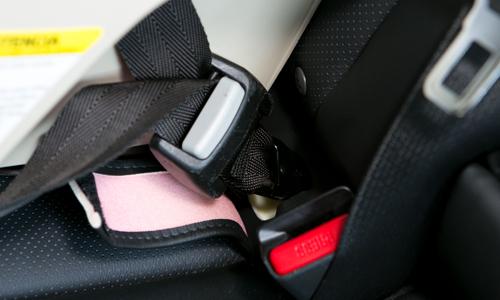 Latch system: There are two sets of anchors in the outboard seats. Although they're set deeply into the seat bight, they're under leather flaps and accessing them is easy. There are three tether anchors on the rear shelf. They're under hinged plastic covers and we had no trouble connecting to them. Booster seat: The seat bottom cushion is slightly contoured, which helped snug our booster into place. The head restraint interfered with the angle, however, so it had to be removed. The outboard buckles are rigid, making them easy for kids to use independently. The middle seat's buckle is floppy, however.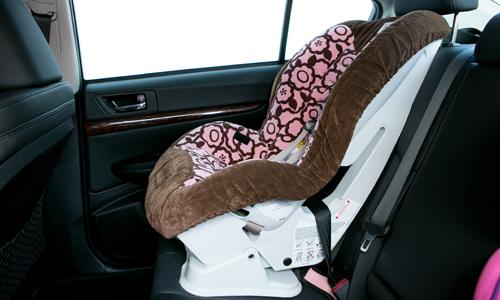 Convertible seat: After raising the head restraint to achieve the proper angle, the forward-facing seat fit well. In rear-facing position, the convertible also went in easily and had plenty of room. Tons of backseat legroom meant that we didn't have to move the front passenger seat forward at all.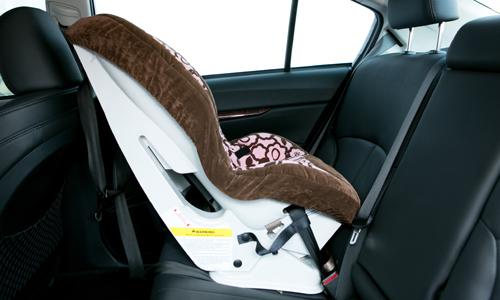 Infant-safety seat: As with the convertible, this rear-facing seat installed easily and had plenty of space.

How many car seats fit in the second row? Two. It doesn't technically meet out criteria for three, but parents needing to squeeze in three safety seats could make it work.
Editor's note: For three car seats — infant-safety seat, convertible and booster seats — to fit in a car, our criterion is that a child sitting in the booster seat must be able to reach the seat belt buckle. Parents should also remember that they can use the Latch system or a seat belt to install a car seat.
Related
Research the 2013 Subaru Legacy
More Car Seat Checks on Cars.com
More Safety News on Cars.com