Honda Shines, Toyota Falls in Latest IIHS Crash Tests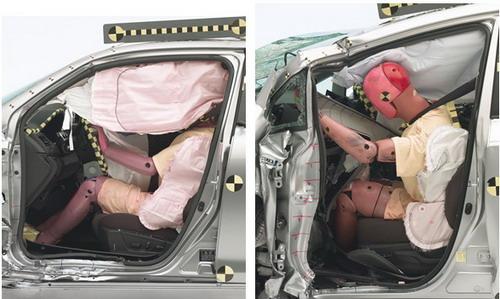 The 2013 Toyota Camry sedan and Prius v hybrid (above, right) failed a new crash test by the Insurance Institute for Highway Safety that simulates a frontal impact overlapping a small portion of the car — say, piling into a tree from your left headlight. IIHS announced today its test of 18 model-year 2013 family cars. It's the largest yet for the so-called "small overlap" frontal test that many luxury brands failed in August 2012.
At the other end, the Honda Accord sedan and nearly-defunct Suzuki Kizashi (above, left) earned IIHS' top score, Good; 11 other cars — including the Accord coupe — earned Acceptable ratings. The IIHS rates cars Good, Acceptable, Marginal or Poor. Of the 18 cars tested, the Toyotas scored Poor, but the Hyundai Sonata, Chevrolet Malibu and Volkswagen Jetta sedan scored Marginal.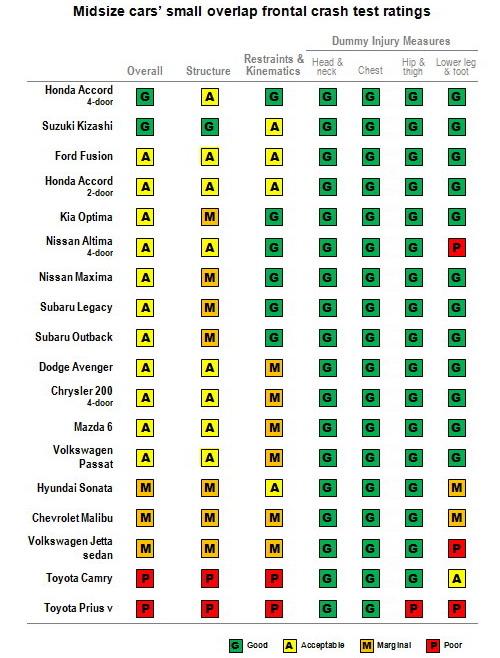 IIHS noted the Ford Fusion, Nissan Altima, Subaru Legacy, Subaru Outback, Volkswagen Passat and Volkswagen Jetta underwent running changes within the 2013 model year to various areas — like airbag modules and structural elements — to earn their Acceptable scores (or Marginal, in the Jetta's case). So if you're shopping any of them, check the driver's doorjamb for a sticker that has, among other certifications, the month your car was built. You'll want to ensure it came after the month during which the change was made:
Subaru Legacy or Outback after August 2012
Volkswagen Jetta or Passat after October 2012
Nissan Altimas after November 2012
Ford Fusions after December 2012
Yes, you read that right. The Fusion earned a respectable score, but IIHS spokesman Russ Rader confirmed it won't apply until January-built cars. Automakers were "notified of what the test parameters are, and some that are able to, elect to make changes," Rader told Cars.com. "We presume that the changes that were made improve the vehicle's performance."
The test represents a major improvement over IIHS' first small-overlap test, where eight of 11 luxury sedans scored Marginal or Poor. Cars that scored Acceptable or Good in the test along with Good scores in IIHS' conventional front, side, rear and roof-strength tests earned a Top Safety Pick+ ("plus") designation, rating above the now-ubiquitous Top Safety Pick award.
Some automakers have expressed concern that designing a car to do well in the latest test could affect handling and gas mileage. The test overlaps 25% of the front of the car instead of the IIHS' conventional 40%-overlap frontal test, which IIHS still conducts. But IIHS President Adrian Lund told Automotive News last summer that small-overlap accidents make up one quarter of the 10,000 fatal front accidents in the U.S. each year, as crash forces intrude on areas like wheel wells rather than conventional crumple zones.
Honda, whose Accord scored well, has looked for ways to improve crash compatibility between different-size cars, engineer Chuck Thomas told us. Small-overlap crashes "are caused by this sort of mis-engagement, or lack of engagement, by the structures that are designed to function in a traditional front crash," he said. Honda developed "structures outside of these side frames" to improve crashworthiness in small-overlap tests.
On the other end, Toyota safety spokesman Brian Lyons said the automaker is "evaluating the [IIHS] test and comparing it to the vehicles." The automaker issued a formal statement that it will "respond to the challenge. We are evaluating the new test protocols and can say that there will not be one single solution to achieve greater crash performance."
Related
Mercedes, Lexus and Audi Fail Latest IIHS Crash Tests
More Safety News
More Automotive News