New Car Tracker: December 2012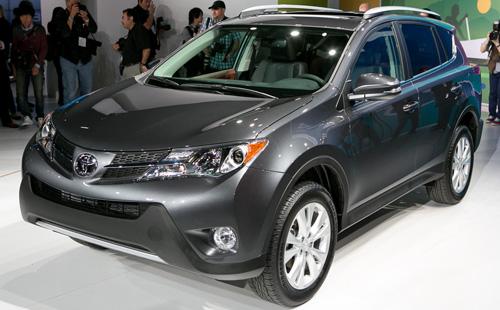 November's 2012 Los Angeles Auto Show debuted many production cars and few concepts, which leaves us with a ton of new cars to track into 2013. The small SUV segment is one of the most notable to watch in 2013 with staples like the redesigned Toyota RAV4 and Subaru Forester debuting, as well as the funky Fiat 500L and new Mitsubishi Outlander.
As always, we remind our readers that we don't list rumored models, only confirmed vehicles and time frames.
2014 Acura RLX: Spring 2013
Acura NSX: Within three years
2013 Acura RDX: Out now
2013 Acura ILX: Out now
Diesel TDI versions of the Q5, A6, A7 and A8: Spring 2013
2013 Audi Q5: Out now

Audi Q3: 2013
2013 Audi RS 5: Out now
2013 Audi S6, S7 and S8: Out now
2013 Buick Enclave: Out now
2013 Buick Verano Turbo: Out now
2013 Buick Encore: Early 2013
2013 BMW 7 Series: Out now

2013 BMW 650i: Out now

2013 BMW 3 Series Hybrid: Out now

2013 BMW 3 Series Sports Wagon: Spring 2013
2013 BMW X1: Out now
2012 BMW M6 convertible and coupe: Out now
2012 BMW 3 Series: Out now
2013 BMW 6 Series Gran Coupe: Out now
2012 BMW 5 Series Hybrid: Out now
2013 BMW M5: Out now
Cadillac ELR coupe: Production begins late 2013
2013 Cadillac SRX: Out now
2013 Cadillac ATS: Out now
2013 Cadillac XTS: Out now
2014 Chevrolet Corvette: 2013
2014 Chevrolet Silverado 1500: Summer 2013
2014 Chevrolet Spark EV: Summer 2013 in Oregon and California
2014 Chevrolet SS: Early 2013
2013 Chevrolet Camaro: Out now

2014 Chevrolet Impala: Early 2013
2013 Chevrolet Traverse: Out now
2013 Chevrolet Sonic RS: Out now
2013 Chevrolet Malibu: Out now

2013 Chevrolet Volt: Out now
2013 Chevrolet Spark: Out now
2013 Ram 1500: Out now
2013 Dodge Dart: Out now
2013 SRT Viper: Late 2012
Ferrari F12 Berlinetta: TBA
2014 Fiat 500L: Mid-2013
2013 Fiat 500e: Second quarter of 2013 in California only
2013 Fiat 500c Abarth: First quarter 2013
2014 Ford Fiesta: Spring 2013
2014 Ford Fiesta ST: Spring 2013
2014 Ford Transit Connect Wagon: Late 2013
2013 Ford Explorer Sport: Out now
2013 Ford Fusion: Out now
2013 Ford Escape: Out now
2013 Ford Mustang V6, GT, Boss 302 and GT500: Out now
2012 Ford Focus Electric: Out now in select states
2013 Ford Focus ST: Out now
2013 Ford C-Max Hybrid and plug-in hybrid: Out now
2013 GMC Sierra 1500: Summer 2013
2013 GMC Acadia: Out now
2013 Honda Crosstour: Out now
2013 Honda Accord sedan, coupe: Out now
2013 Honda Accord Plug-in Hybrid, Hybrid: Early 2013; Later in 2013
2012 Honda CR-V: Out now
2013 Honda Fit Electric: Out now in California and Oregon; East Coast in 2013
2013 Honda Civic: Out now

2013 Hyundai Elantra coupe and GT: Out now
2013 Hyundai Santa Fe: January 2013
2013 Hyundai Santa Fe Sport: Out now
2013 Hyundai Veloster Turbo: Out now
2013 Infiniti JX crossover: Out now
2014 Jaguar F-Type: Summer 2013
2014 Jaguar XFR-S: 2013
2013 Jeep Wrangler Rubicon 10th Anniversary: Spring 2013
Diesel Jeep Grand Cherokee: 2013
Next-generation Jeep Liberty: 2013
2014 Kia Forte: Early 2013
2014 Kia Sorento: Early 2013
2013 Land Rover Range Rover: Out now
2013 Land Rover LR2: Out now
2013 Lincoln MKS: Out now
2013 Lincoln MKT: Out now
2013 Lincoln MKZ, MKZ Hybrid: Late 2012
2013 Lexus LS: 460/460 L and F Sport: Out now
Lexus LS 600h L: December
2013 Lexus ES 350 and ES 300h: Out now
2013 Lexus RX 350: Out now
2013 Lexus GS 350 and GS F Sport: Out now
2013 Lexus GS 450h hybrid: Out now
Next-generation Mazda RX-7: 2017
2014 Mazda6, Mazda6 diesel: Early 2013; Second half of 2013
2013 Mazda CX-9: Out now
2013 Mazda CX-5: Out now
2014 Mercedes-Benz SLS AMG Black Series: Summer 2013
2013 Mercedes-Benz GL63 AMG: First quarter 2013
2013 Mercedes-Benz GLK-Class: Out now
2013 Mercedes-Benz SL65 AMG: Out now
2013 Mercedes-Benz GL-Class: Out now
2013 Mini Paceman: March
John Cooper Works GP: March 2013
2012 Mini Cooper roadster: Out now
2012 Mini Cooper coupe: Out now
2014 Mitsubishi Outlander: TBD
2013 Mitsubishi Outlander Sport: Out now
2012 Mitsubishi i EV: Out now
2014 Nissan GT-R: January 2013
2013 Nissan Sentra: Out now

Next-generation Nissan Rogue: 2013
2013 Nissan Versa: Out now

2013 Nissan Altima: Out now
2013 Nissan Pathfinder: Out now
2013 Nissan 370Z: Out now
2013 Porsche 911 Carrera 4, 4 S: Early 2013
2014 Porsche Cayman: Spring 2013
2013 Porsche Cayenne Diesel: Out now
2013 Porsche Cayenne Turbo S: Spring 2013
2013 Porsche Boxster: Out now
Porsche 918 Spyder Plug-In Hybrid: September 2013
2013 Scion FR-S: Out now
2012 Scion iQ: Out now
Smart ForTwo Electric: Spring 2013
2013 Smart ForTwo: Out now
2014 Subaru Forester: 2013
2013 Subaru Legacy: Out now
2013 Subaru Outback: Out now
2013 Subaru BRZ: Out now
Subaru XV CrossTrek: Out now
2013 Toyota RAV4: Early 2013
2013 Toyota Avalon Hybrid: Out now

2013 Toyota Corolla: Out now

2013 Toyota Venza: Out now
2013 Toyota Avalon: Out now
2013 Toyota Land Cruiser: Out now
2012 Toyota Prius Plug-In: Limited release in 2012; national rollout in 2013
2012 Toyota Camry, Camry Hybrid: Out now
Next-generation Volkswagen Golf: 2013
2013 Volkswagen Beetle R-Line: Early 2013
2013 Volkswagen Beetle TDI diesel: Out now
2013 Volkswagen Jetta Hybrid: Late 2012
2013 Volkswagen CC: Out now