NHTSA: Fatalities Go Down as Seat-Belt Use Goes Up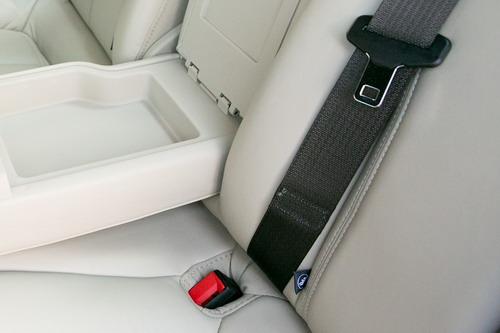 Seat-belt use has been increasing steadily each year for nearly the past two decades, and 2012 is no exception. According to a national study, overall seat-belt use increased to 86% this year, a 2% improvement from 2011.
The study, the National Occupant Protection Use Survey, is conducted annually by the National Highway Traffic Safety Administration's National Center for Statistics. This year's survey, which observes seat-belt use through real-world observations, studied more than 93,000 occupants of 73,460 vehicles between 7 a.m. and 6 p.m. June 4-17 at 1,700 randomly selected roadway sites, NHTSA stated.
Showing the greatest gains were the 17 Southern states; seat-belt use there spiked 5%, bringing its 2012 total to 85%. That's more than double the increase of the Midwestern states. The dozen states surveyed in the Midwest posted a 2% increase, also for a total of 85%. Still, both those regions have a long way to go if they hope to catch the 13 Western states, where overall seat-belt use is 94%, following this year's 1% uptick. Bringing up the rear, the Northeast posted no change in its seat-belt use for 2012, remaining at a nationwide low of 80%.
The Northeast's last-place finish is somewhat counterintuitive considering that two-thirds of its states have laws allowing police to stop motorists solely for not using seat belts — the second most among the four surveyed regions. NHTSA's survey showed that primary-enforcement states tend to have higher seat-belt-law compliance; combined, their national total this year increased by 3% for 90% overall. That's compared with secondary-enforcement states that have weaker seat-belt laws, which this year made a 2% gain for 78% overall.
In the South, only two of 16 states and the District of Columbia are secondary-enforcement compared with more than half of the Midwest. Meanwhile in the West, which has the greatest seat-belt compliance overall, fewer than half of the individual states are primary-enforcement.
Other areas of the survey posting 2012's greatest gains in seat-belt use include motorists driving through light fog (a 6% increase); in slow traffic (4%); and in light traffic (4%). Even the group of surveyed motorists with the poorest compliance — pickup truck drivers — showed a 3% improvement for 77% overall.
According to NHTSA figures, steady seat-belt-use increase since 1994 has been accompanied by a comparably steady reduction in daytime passenger-vehicle fatalities. As of 2010, the last year for which fatality data was available, the number had been reduced by 42%.
"Research has found that lap/shoulder seat belts, when used, reduce the risk of fatal injury to front-seat passenger car occupants by 45 percent and the risk of moderate-to-critical injury by 50 percent," NHTSA said in a statement. "In 2010 alone, seat belts saved an estimated 12,546 lives."
Related
Seat Belt Reminders Could Come to Back Seat
U.S. Traffic Deaths Drop to Historic Low
More Safety News on Cars.com