Wait, That's Not a 2013 Subaru Legacy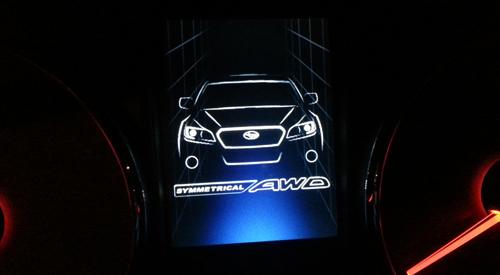 Upon unlocking the
2013 Subaru Legacy
and stepping inside, a startup graphic materializes on the information display between the speedometer and tachometer to welcome drivers to Subaru's midsize sedan. I stared at the graphic dozens of times before realizing — wait a second — that's not the Legacy I'm driving. The graphic shows a much cooler-looking vehicle.
The mystery graphic also doesn't reflect a previous-generation Legacy or anything else in Subaru's 2013 lineup. In fact, the design shows off a chiseled appearance, more prominent front fenders and wide stance. What is this car? Did the next-generation Legacy accidentally get programmed into the 2013? It looks a lot more interesting than the 2013 Legacy I was driving.
A quick inquiry to Subaru dashed any hope of the mean graphic being a real car. A Subaru representative says the graphic is stylized based on the Legacy concept and meant to highlight its design features, including the grille and hawk-eye headlight design.
Bummer. At least we can hope the next-generation Legacy takes inspiration from this graphic instead of evolving from the somewhat awkward design of the current one.
Related
Research the 2013 Subaru Legacy
More Subaru News on Cars.com
What Does this Button Do?