2013 Detroit Auto Show Winners and Losers: Concept Cars
We'd like to institute a new rule: Only cars that are truly conceptual in nature should be labeled as "concept" cars. Of this list, only the Hyundai or Nissan could be considered a true concept car; all the others are simply early versions of upcoming production cars due in the next year or two. That said, there was a good variety on display at the North American International Auto Show in Detroit, in terms of style and segment. Here are our editors' picks for winners and losers of the latest crop of concepts. You can check out our grades for this year's crop of production cars here.
Acura MDX Concept
Aaron Bragman: Winner
Acura styling has wavered between boring and scary in recent years, but of the entire lineup, the MDX has always worn the Acura face the best. The brand apparently isn't going to mess with that success, and wisely so. I like the look of the MDX, despite its retention of the metal beak, and its new increased length seems to give it better proportions.
Joe Wiesenfelder: Winner
It's nice to see an Acura introduction that isn't in some way puzzling. This one looks good — probably better than ever. The beak looks less beaky here than in the past — at least against the show car's paint color. The bumper treatments are especially interesting. Will they appear in the real product? Probably. When Acura calls something a prototype, it usually doesn't mess with sheet metal. Technically, the bumpers aren't sheet metal, but still ...
Mike Hanley: Loser
I agree with Aaron that the MDX has had the best implementation of Acura's shield grille, but I thought the overall design of the MDX Prototype was a little boring — kind of like the brand's upcoming RLX flagship sedan. It seems that Acura, after being so heavily criticized for its front-end look the past few years, is now playing it safe — too safe.
David Thomas: Loser
Am I the only one who looks at this and sees no real difference from the current MDX that has been around for years? This is less an evolution and more of a Xerox. Besides the odd headlights and yes, a better-looking backside, the MDX Prototype looks prototypical to me.
BMW 4 Series Concept
AB: Winner
Slick, slick, slick! BMW stylists are churning out some increasingly good stuff now, and the Concept 4 Series is no exception. It looks better than the 3 Series coupe it will replace, and hopefully the gaping lower air intakes and rear diffuser get toned down a bit for production to keep the shape clean.
JW: Winner
Sweet. This is a much better-looking coupe than the current 3 Series. I'd like to see the hexagonal theme remain, on everything from the corona running lights and bumpers to the door handles and intricate side mirrors, but I suspect all of these things will indeed be toned down. The bumpers just look too vulnerable.
MH: Winner
The Concept 4 Series' coupe styling is surprisingly different than the outgoing 3 Series', and the fastback-like profile is especially good. The showcar looked impossibly low on its huge wheels, and both contributed to its great stance.
DT: Winner
The current 3 Series coupe is great to drive but I've always thought there was something amiss with the styling, especially from the windows back. The 4 Series fixes that problem with the fastback styling and adds a front end that is a terrific take on the latest 3 sedan. Can't wait to drive it ... when it isn't a concept.
Ford Atlas Concept
AB: Loser
Ford ostensibly revealed this concept F-150 replacement to steal some thunder from GM's new Chevy Silverado and GMC Sierra, which also debuted at the show, but the same criticism that's been applied to the GM trucks applies here, too: It isn't all that different from the current one. Inside and out, it looks like a Super Duty. Supposedly powered by a "next-generation EcoBoost engine," no detail was given on the truck, including any info on how much aluminum it might use, which is rumored to be in the works for the real F-150. Kudos to Ford for giving it a name and not calling it "Future Pickup Concept" — I'm looking at you, Honda.
JW: Winner
It's not long on details, but it looks pretty good to me, and I admit I'm enjoying a return to concept-y concepts more than I'd expect — mainly because it reflects a healthier market than we've seen in years. As for the strategy? It totally worked. GM's pickups — also short on details — didn't seem to be on the media's mind. Atlas is a great name, too.
MH: Winner
The evolution of Ford Super Duty and Raptor design elements works overall on the Atlas, which garnered a lot of interest in part because it was one of the few true surprises of the auto show. I suspect Ford truck fans will nod approvingly.
DT: Winner
It stole the show limelight because no one knew it was coming; it won for me because of how awesome it looked. In person, it doesn't create as much awe as I expected from the amazing photos Ford released on the day of the show. I don't agree with Aaron, though. I think it is significantly different up front and from behind versus the current F-150. It's just a truck ... so it can't be too different.
Honda Urban SUV Concept
AB: Winner
Winning the award for least creative name, it actually looks quite good. There are some unique styling elements, like the rising bodyline that merges into the C-pillar and up into the roof, that could actually make it to production. The familial Honda grille and headlamp styling is growing on me, and it actually looks quite attractive here. If Honda can deliver something close to this concept for production, it might make the Buick Encore — the only other entry in this segment — look a little frumpy.
JW: Winner
Wasn't Buick "Frumpy" Encore a short-lived fighter in the lightweight class? The Urban is a winner for the reasons Aaron states. If you doubt it, compare its styling with the Honda CR-V. Does the market need even-smaller SUVs? Clearly it does. Take something the size of a small wagon or hatchback, butch it up into an SUV shape and suddenly Americans are interested.
MH: Winner
This concept proves yet again that it's wise to withhold judgment on a car's design until you see it in person. The photos of it left me underwhelmed, but when I walked over to the Honda stand, my impression changed. It looks trim and athletic in person, and the front-end styling doesn't seem so jarring.
DT: Winner
To me this is what the Nissan Juke should have been. While that car is cartoonish, the Honda looks sleek and sporty. Heck, it may be the best-looking design in the brand's entire portfolio. I think there's room in any lineup for a vehicle that looks this good. Make an Si version, too.
Hyundai HCD-14 Concept
AB: Winner
I absolutely love the look of the Audi A7, and this latest update - wait, this is a Hyundai? Ah. Well, the original Genesis sedan was accused of aping Mercedes-Benz styling, so why shouldn't the second look like an Audi? The third can then look like a BMW 7 Series. Seriously, this Genesis concept is quite attractive and also quite different from where Hyundai styling is today. As a pure concept to show Hyundai's next bold design steps, this is promising.
JW: Loser
This one doesn't work for me. It's not even close to what the real thing can possibly look like. When a car is only as aerodynamic moving forward as it is backing up, it's not going to see daylight as a real product. And I have a gesture for the gesture-recognition control system, too. Capacitive buttons, which don't respond when you touch them, are so effective that now we're going to rely on controls you don't touch? Please, automakers, stop yourselves.
MH: Loser
The interior styling is as swoopy as it gets and the gesture-based controls are an amusing (or preposterous?) idea, but true concept cars like this one purports to be aren't supposed to look like something that's already for sale at your nearest Audi dealership.
DT: Winner
There's nothing wrong with crazy concepts. That's one reason it's so much fun to go to car shows. Even if Hyundai just incorporates the back end of this onto the next Genesis, it will be an improvement in terms of looks. It's nice to see that the sometimes-safe Hyundai actually went all out here.
Lincoln MKC Concept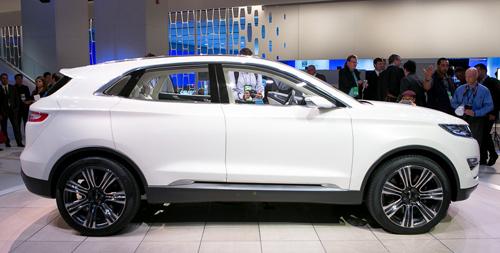 AB: Winner
The first Lincoln in recent memory to not look like the Ford on which it is based, the MKC concept hits all the right chords. Lincoln simply must deliver a production version that is 90% what we see here — give it some conventional seats and keep everything else as-is. Thankfully, it's already fairly close to what we expect to see in showrooms later this year, giving me some glimmers of hope for Lincoln's comeback plans.
JW: Winner
Believe me, I've been waiting for a Lincoln I could truly defend as a winner. I wouldn't call it a knockoff of the Land Rover Range Rover Evoque, but I get a similar impression from it. If you're going to copy something, the Evoque is a great place to start. Interior space and visibility seem challenging, but those haven't held the Evoque back.
MH: Winner
I hope Lincoln finds a way to maintain the MKC concept's low-slung look because it's one of the small crossover's best elements. Aaron's right: The MKC doesn't make you think of a Ford product, and Lincoln needs more of that for it to stand a chance against tough luxury competitors.
DT: Winner
I love the MKC in every possible way. It's gorgeous for a small crossover. I just can't get the thought out of my head of the other gorgeous Lincoln concepts that turned into bloated production cars. Or the dismal sales of another small luxury crossover — the Infiniti EX — that reminds me of the MKC. As a concept car, though, it truly shines.
Nissan Resonance Concept
AB: Winner
I like where Nissan is going with this. Squint at it and I'll bet money you're looking at the next Murano, minus the whiz-bang 3-D "holographic" touch-screen and big wheels. It looks sculpted and athletic without being weird. While the color doesn't really do it for me, the shape certainly does.
JW: Loser
I take notes on all the cars I see at the show. For the Resonance, my notepad is uncharacteristically succinct: "No." The only time I have any use for this kind of "design study" — which could never, ever appear on the market — is when it looks great. To me this one doesn't.
MH: Winner
Compared to the brand's Murano and its funky front-end, the Resonance's exterior almost seems conventional. If this is the way Nissan plans to go with the next version of its midsize crossover, I think it's on the right track.
DT: Loser
As an improvement on the Murano, the Resonance might win, but it still doesn't look like any SUV someone in my neighborhood would be caught driving. Sure, it might be exciting and daring, but people don't seem to want to own a spaceship masquerading as a family car.
Toyota Corolla Furia Concept
AB: Winner
As a concept car, this looks pretty good. As a production car, if the actual Corolla looks anything like this, I'll eat one. It's far too interesting in its forms and details to be the next Corolla, a car people buy because it doesn't affect their pulse at all. Check out how the grille's hexagons also house the front turn signals. That's pretty sharp, but this will be the first and last time we see it.
JW: Winner
If the actual Corolla looks anything like this, I'll pick up the tab. I don't like most-improved awards; I wouldn't call this a winner if it weren't a compelling little number that held my interest for a few minutes of 360-degree viewing.
MH: Winner
The trunk lid is kind of droopy, but otherwise this small sedan makes a big break from the Corolla as we know it. The shapes are aggressive, but there's some welcome restraint in the design, too, which makes me believe much of the look could see the real world relatively soon.
DT: Loser
Maybe it's a fine concept for a compact car, but it isn't a winner under the lights at the granddaddy of all auto shows. No one was paying any attention to the Furia because compact cars just aren't that interesting, even the flashiest of concept versions. More people were inspecting a big, blue crossover concept that looked like a slab-sided box ...
Volkswagen CrossBlue Concept
AB: Loser
It's the name. The car itself looks fine, but it reminds me of a seven-passenger Jeep Grand Cherokee to the point that I was calling it the Volkswagoneer. The Jeep people, who are putting the finishing touches on their own new Grand Wagoneer, must be fuming. But "CrossBlue" is just lame. Yes, it's an homage to it being a diesel plug-in hybrid, which sounds expensive, but I just hope the production version is named something more traditional and easily pronounceable, like Phaeton, Scirocco or Touareg.
JW: Loser
CrossBlue is a great name because it's unlikely to appear in world news coverage tied to unrest in Mali. (Just Google it.) My problem with it is the combination of diesel, electric and plug-in technology — something VW admits wouldn't come to the U.S. Then why roll it out here? This is the kind of thing that leads other media to characterize the Detroit show as all about green. Nonsense.
MH: Winner
I appreciate Volkswagen's attention to proportions with the CrossBlue, and the clean lines work well on what is a large vehicle. At an auto show filled with attention-grabbing production cars like the Chevrolet Corvette and more futuristically styled concepts, the CrossBlue didn't grab the headlines, but it's the kind of vehicle families coming to the auto show will want to see.
DT: Winner
You guys are so missing the point. The third-row seats fold flat with the pull of one strap. One! Ford's third rows use three straps. That means this is a concept with functional pieces any family shopper will die for. If VW keeps to its string of recent redesigns and makes the CrossBlue an alternative to the Pathfinders and Explorers of the world at a similar price, it will have a sales hit no matter what it looks like or what it's called.