2013 Volkswagen Jetta Hybrid: Impressive Mileage, Irritating Brakes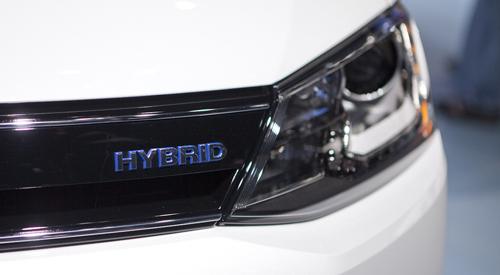 Long known for its diesel powertrains, Volkswagen has ventured into alternative-fuel territory with its gas-electric
2013 Jetta Hybrid
.
How did the hybrid version of the sedan handle a road trip in terms of efficiency and comfort? I put more than 300 miles on the new "green" VW during a Christmas trip from Chicago to chilly Milwaukee and returned with the gift of impressive fuel economy.
Unlike other hybrids that fail to deliver the mpgs (check out our
Ford C-Max review
, for example), I averaged 46.2 mpg over 326 miles of almost all highway driving. Why is that a great figure considering the Jetta Hybrid is EPA rated at 42/48 mpg city/highway?
I didn't drive any differently versus a traditional gasoline-powered car to eke out extra mpgs. And during my trip the car was loaded with people and presents, and we used lots of heat due to the chilly temperatures.
Cars.com editor Joe Bruzek got even better mileage during his commute to and from work, also driving normally. During an hourlong, 37-mile commute, he averaged a speed of 33 mph and returned 50.9 mpg. On a two-hour, 54-mile trip, he averaged 25 mph and got 46.6 mpg. Editor Mike Hanley reported similar results in his review of the Jetta Hybrid. During a 106-mile trip, which included a fair amount of stop-and-go conditions, he averaged 50 mpg. Click here for his full review.
Though its economy impressed many of us, some factors disappointed. One big gripe is premium fuel is required for maximum efficiency. Another is trunk space: Non-hybrid Jettas have 15.5 cubic feet of trunk space, which is considerably large for the class. The battery eats up a lot of that, however, leaving just 11.3 cubic feet of space in hybrid versions. I really missed those extra cubic feet when loading the trunk for a long trip.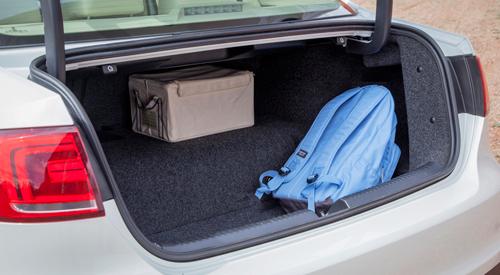 The biggest issue, however, is the regenerative braking system. Power from the 150-horsepower, turbocharged 1.4-liter four-cylinder is good, but stopping is a lurchy affair. The system captures braking energy to recharge the battery, but it affects pedal feel and response time for an overall unnatural feel. During light braking, the pedal felt super touchy, which made for uneven stopping action. In heavy braking, though, the pedal felt numb and response time was delayed. "I couldn't make this car stop smoothly for the life of me," Bruzek said. In his review, Hanley agreed, saying the non-linear braking system is one of the car's biggest shortcomings.
Costwise, the 2013 Jetta Hybrid is in the middle of the road. At $25,790 (including a $795 destination charge), it's about $800 more than the Toyota Prius, which offers more cargo space and the same amount of passenger room. The Jetta Hybrid is also about $640 more than the Honda Civic Hybrid, which is much smaller. It's a bargain compared with the $27,995 Ford Fusion Hybrid, however.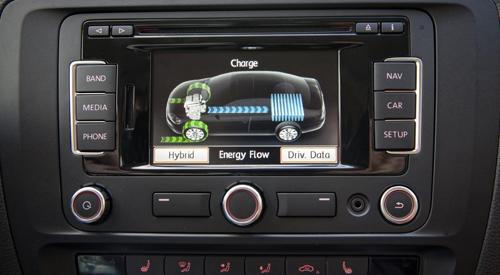 Overall, the Jetta Hybrid's impressive fuel economy and affordable price are enough to overshadow its unrefined regenerative braking system and lack of trunk space. A hybrid version of the Jetta Sportwagen would solve the cargo problem, but unfortunately, one isn't in the works, according to VW. What would be even more fun is a turbodiesel hybrid Sportwagen. Also not going to happen, but one can dream.
Related
2013 Volkswagen Jetta Hybrid Review
2013 Volkswagen Jetta Hybrid Priced at $25,790
More Volkswagen News on Cars.com