2014 Audi SQ5 at the 2013 Detroit Auto Show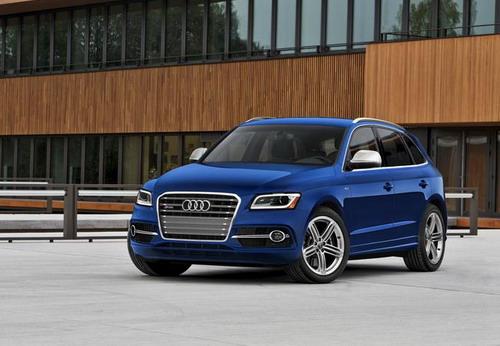 Competes with: BMW X3 xDrive35i, Lexus RX 450h, Jeep Grand Cherokee SRT8
Looks like: The Q5 got Audi's "S" treatment
Drivetrain: 354-hp, supercharged 3.0-liter V-6 with eight-speed automatic transmission; all-wheel drive
Hits dealerships: Fall
If the 2013 Q5's supercharged 3.0-liter V-6 isn't quick enough for you — it hits 60 mph in 6 seconds — a new 2014 SQ5 cranks out an extra 82 horsepower and 52 pounds-feet of torque from the same-displacement engine for a total of 354 hp and 347 pounds-feet of torque. An eight-speed automatic sends power to the ground via Audi's Quattro all-wheel drive, and Audi expects the SQ5 to hit 60 mph in around 5 seconds — a half-second faster than the rival BMW X3 xDrive35i.
More 2013 Detroit Auto Show Coverage
A gasoline counterpart to Europe's diesel-powered SQ5 TDI, the SQ5 hits U.S. showrooms this fall. Other changes include a firmer suspension that sits 1.2 inches lower and 20- or 21-inch wheels (the Q5 tops out at 20s). An optional Dynamic Steering Package varies ratio as well as assist, and Quattro vectors torque to sharpen handling like similar systems from BMW, Acura and others.
Gray accents line the grille and side mirrors while the cabin has gray gauges with white lettering — long an Audi S trademark. The SQ5 still carries counterintuitive 3.0T insignia despite the engine being supercharged not turbocharged.
Audi's small SUV sells about as well as the Mercedes GLK-Class and Acura RDX, but its sales fell short of the X3's in 2012. The SQ5 could help, given the popularity of today's 3.0-liter Q5, which accounts for more than a third of Cars.com new-car Q5 inventory. There's no word on pricing yet, but expect the SQ5 to start somewhere north of the $44,795 Q5 3.0T.
Related
Audi Puts 4G Wireless Into Cars
Audi To Debut 2014 R8, RS 5 Cabriolet at 2013 Detroit Auto Show
More Automotive News