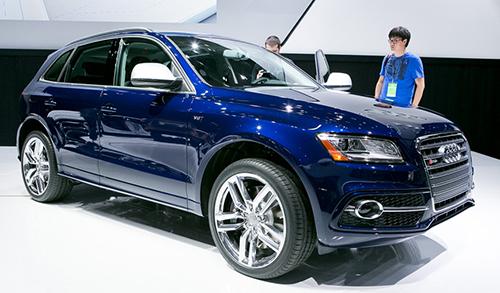 The Audi Q5 already runs neck-and-neck with competing small luxury crossovers in popularity, so the added power and quickness of the 2014 SQ5 model may give it the boost it needs to pull ahead. Cars.com reviewer Kelsey Mays says the supercharged 3.0-liter V-6 in the new SQ5, which is debuting this week at the 2013 North American International Auto Show in Detroit, gets hefty horsepower and torque increases, helping to shave nearly a full second off of the Q5's 6-second zero-to-60 time.
More 2013 Detroit Auto Show Coverage
Performance enhancements aside, the SQ5 could use a little work on the exterior, Mays says. Silver trim along the grille and on mirror caps has a plastic-like appearance, and the 21-inch wheels we saw in Detroit may be a bit much for the SQ5's lowered ride height.
Check out the video below and judge for yourself.