2014 Cadillac ELR: Up Close
There is little lost in the transition from the Cadillac Converj concept car to the Cadillac ELR production car under the auto-show lights. It's a successful testimony to the efforts of GM's design and engineering staffs, who were told to basically reproduce the concept as-is.
More 2013 Detroit Auto Show Coverage
They have done so, and the result is striking — a low-slung, swoopy, angular coupe more reminiscent of the Lamborghini Gallardo from some angles than the Volt. LED headlamps rise into the fender that sweeps back in a wedge to muscular rear flanks housing LED taillamps, which also stretch into the fender. The look is extremely distinctive; it honestly looks like a show car for the street.
Inside, things are even more impressive.
This is perhaps the nicest, most upscale interior Cadillac has crafted in decades. Premium materials cover everything from the instrument panel to the center console. The doors are wrapped in high-quality leather, wood, carbon fiber or metal. The optional Opus semi-aniline leather seats feel better than most expensive leather furniture.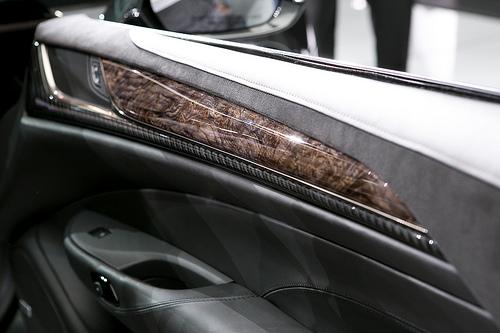 An updated gauge cluster takes the Volt's customizability to the next level, with more choices for displays and more options for information configuration. It's definitely tighter inside than the Volt, with smaller rear seats and a narrower width even though the ELR is a larger car than the Volt; the ELR's length, width and wheelbase are all bigger than Volt.
The only potential issue is that the CUE system is standard. It's an imperfect touch-screen and voice-controlled system that has given some of our testers fits in the past in certain models while pleasing some editors in different vehicles. The increasingly common use of touch-sensitive panels instead of switches and knobs also shows up here, which is something we're not necessarily fond of in practical use.
No word on pricing, but we expect not to like this part either. If the Volt is already $40,000 and change, the ELR's price is going to have to be well above that. Still, if this is a stunning coupe — regardless of its green credentials — and if it's half as much fun to drive as it is to look at, it's going to be a significant halo vehicle for the Cadillac brand.