2014 Honda Accord Plug-in Hybrid Priced at $40,570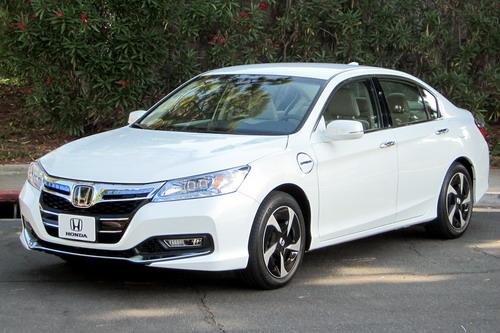 Honda announced yesterday the 2014 Accord Plug-In Hybrid will start just over $40,000, including a $790 destination charge. It's on sale now but only in New York and California. The automaker announced the plug-in Accord's EPA mileage — 115 miles per gallon equivalent — at the 2012 L.A. Auto Show. It bests 2013 plug-ins like the Ford Fusion Energi (100 MPGe), Chevrolet Volt (98 MPGe), Toyota Prius Plug-In (95 MPGe) and Ford C-Max Energi (100 MPGe).
The Accord Plug-In Hybrid has a maximum EV range of 13 miles, after which its electric-motor-assisted 2.0-liter four-cylinder fetches an EPA rated 47/46 mpg city/highway. That's a low EV range but strong gas mileage compared to the Prius Plug-In (11 miles EV range and 50 mpg thereafter), Fusion/C-Max Energi (both 21 miles then 43 mpg) and Volt (38 miles then 37 mpg on premium gas).
Blame the low EV range on the Accord Plug-In Hybrid's 6.7-kilowatt-hour lithium-ion battery pack, which falls short of the 7.6-kwh packs in the plug-in Fords and the Volt's 16-kwh unit. That means the plug-in Honda qualifies for a modest federal tax credit of up to $3,334. Remember, battery capacity determines the plug-in credit. That's why most pure-electric vehicles, which need higher-capacity batteries, qualify for the highest $7,500 credit. Honda's credit beats the Prius Plug-In ($2,500) but falls short of the Fusion Energi and C-Max Energi (both $3,751) and the Volt ($7,500).
Base pricing for this plug-in set, assuming the destination charge and a maximum federal tax credit — for which not everyone qualifies — pans out as follows:
2014 Honda Accord Plug-In Hybrid: $37,236
2013 Ford Fusion Energi: $35,744
2013 Chevrolet Volt: $32,495
2013 Toyota Prius Plug-In: $30,295
2013 Ford C-Max Energi: $29,994
Though pricey, the Accord Plug-In Hybrid goes for broke on technology, with a standard navigation system, backup camera, forward collision and lane departure warning systems, adaptive cruise control, a power driver's seat, heated seats and Honda's Bio Fabric upholstery. Only the Prius Plug-In has standard navigation, but both Fords include standard leather. Compare the group here.
Honda also will offer the Accord Plug-In Hybrid for a $429 monthly lease in both New York and California. Remember, the leasing party gets the tax credit, which allows Honda — like other automakers that lease their plug-ins — to subsidize the monthly rate. Honda has no plans to offer the Accord Plug-In Hybrid outside California and New York.
"We looked at the states where there was significant recharging infrastructure in place," spokesman Chris Martin told us. "It's going to be very limited production of this vehicle. Consumers are not going to necessarily be able to drop into every dealer and do a test drive. … [But] a lot of dealers are signed up."
Honda will offer a plug-free Accord Hybrid nationwide later this year, but mileage and pricing details are still pending.
Related
2014 Honda Accord Plug-in Hybrid: First Drive
Honda's Ohio Plant to Build Accord Hybrid
More Automotive News