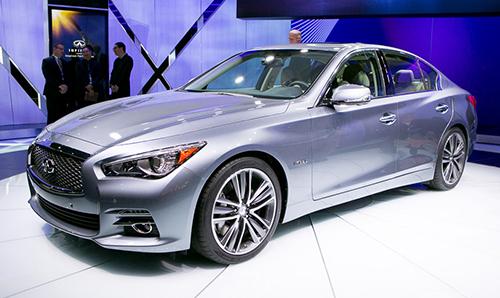 Notwithstanding Infiniti's questionable new Q-for-cars, QX-for-SUVs naming convention, the 2014 Q50 appears to be an overall improvement on the outgoing G37 sedan it replaces. Cars.com reviewer Kelsey Mays looked at the Q50's hybrid version this week at the 2013 North American International Auto Show, concluding that its "surprising utility complements a strong pedigree."
More 2013 Detroit Auto Show Coverage
The new Q50 is lower, longer and wider than its predecessor, with body-style updates that add improved interior volume to decent backseat legroom and trunk space (even in the hybrid). Features like the double-arched grille in front and rear-end style suggest classic Infiniti; meanwhile, a 3.5-liter V-6 paired with an electric motor, direct-adaptive steering system and stylish, samurai-influenced interior trim show change is also embraced.
Check out the video below.