2014 Mercedes-Benz CLA250: Up Close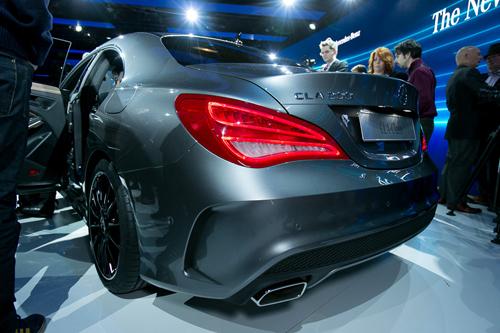 Mercedes-Benz' newest, and perhaps most significant, model won't be appearing at this year's 2013 North American International Auto Show in Detroit, is on the show floor in Detroit, but the company provided a preview of the new compact sedan at a reception the night before the show's kickoff.
More 2013 Detroit Auto Show Coverage
The 2014 Mercedes-Benz CLA250 sedan
is a small front-wheel-drive "four-door coupe" in Mercedes-speak, with styling that draws from its successful big brother, the CLS-Class. Larger than it appears in photos, the CLA is indeed a dramatic departure for the brand; it has a swoopy coupe-like profile accentuated by blacked-out pillars and frameless windows. How those frameless windows do in practice, given the typical wind noise associated with such a design, remains to be seen.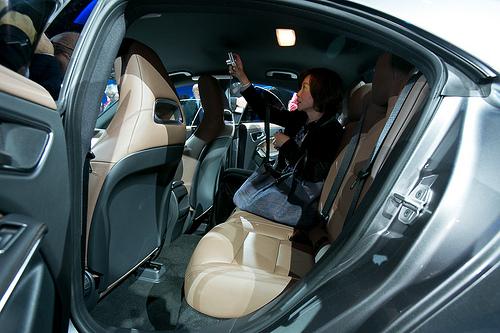 Creative use of LED lighting inside and out is well-done, with instantly recognizable light patterns for both headlamps and taillamps. Inside, the premium feel of Mercedes vehicles carries through. Silver trim on the instrument panel recalls the SLK roadster in terms of its shape and feel; the separate iPad Mini-like display for the standard mbrace2 multimedia system stands apart from the dash and looks decidedly unique. Passenger space is tight in back, as is expected for a compact sedan slotting below the C-Class in the Benz lineup, and headroom is also a bit confined due to the low roofline.
But the compromises in space are not likely to be a big enough hindrance to buyers to keep the CLA off of their lists; this is a segment known for tight backseat confines. The bigger challenge may be price. The CLA's truly attractive style and combination of equipment is sure to bring new buyers into Mercedes-Benz dealerships, but with competition like the Buick Verano and Acura ILX keeping the price point at or below $30,000, how much of a premium buyers will allow for the three-pointed star is uncertain.