2014 Porsche Cayenne Turbo S, Other Sport SUVs Head to 2013 Detroit Auto Show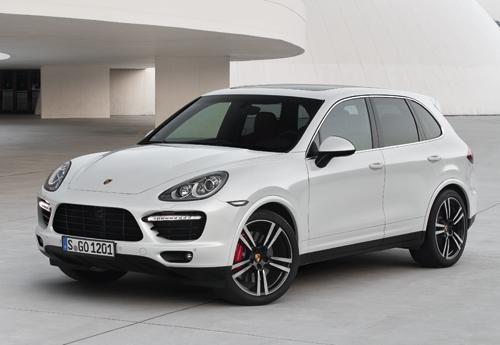 At next week's 2013 North American International Auto Show in Detroit, expect a couple SUVs to make a splash in the high-horsepower club — traditionally the province of super-sedans and exotic sports cars. Porsche will unveil a Cayenne Turbo S, complete with a turbo V-8 that kicks out 550 horsepower. That's 10 hp more than last year's Cayenne Turbo with an optional Turbo Power Kit.
More 2013 Detroit Auto Show Coverage
Across the show floor, Jeep will unveil an updated Grand Cherokee and an SRT8 version with a Hemi V-8 the size of Utah. Today's Grand Cherokee SRT8 makes 470 hp; will the 2014 make the 500-hp club? Stay tuned.
The stupid-powerful SUV club goes on. Mercedes-Benz unveiled the GL63 AMG at the 2012 Los Angeles Auto Show — a $116,925 (excluding a destination fee), three-row SUV with a 550-hp, twin-turbo V-8. No doubt it will be on display in Detroit. Likely so will the automaker's 518-hp ML63 ($97,005), a rival to BMW's 555-hp X5 M ($89,745). Land Rover's redesigned Range Rover, whose sybaritic Supercharged edition ($99,950) boasts a 510-hp, supercharged V-8, will certainly be on display.
Enjoy them all in one place if you can. Seeing one of these on the road will be rare — and you may only spot the taillights.

Related
2013 Detroit Auto Show: What to Expect
2014 Mercedes-Benz E63 AMG at the 2013 Detroit Auto Show
More Automotive News