Acura 2014 MDX Prototype at the 2013 Detroit Auto Show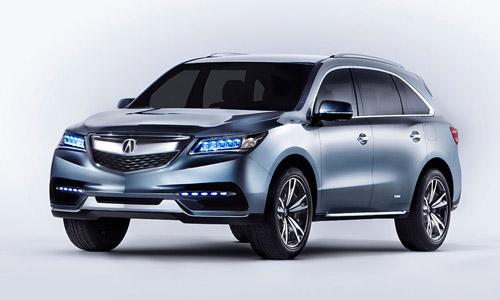 Looks like: There's little guessing about what the next MDX will look like
Defining characteristics: LEDs galore, more spacious interior than current MDX
Ridiculous features: None at all
Chances of being mass-produced: This is essentially the 2014 Acura MDX
Acura's 2014 MDX Prototype shown at the 2013 North American International Auto Show in Detroit is a clear indication of the next MDX. Acura says the new MDX has a more spacious interior, longer wheelbase and improved fuel economy.

More 2013 Detroit Auto Show Coverage
The new MDX also features front-wheel drive as well as all-wheel drive, a first for the MDX; until now it's only been all-wheel drive. There's no word yet on the fuel-economy gains of front-wheel-drive models. Acura says demand from warm climate buyers influenced the availability of adding a front-wheel-drive MDX. All models feature an "Aero Sculpture" design with a roof lowered by 1.5 inches and a 16% improvement in aerodynamic efficiency compared to the outgoing MDX.
Despite the lower roof, the interior is more spacious with increased second-row room and improved access to the third row that's helped by a longer wheelbase, which is also intended to enhance ride quality. Interior features include a next-generation multimedia system featuring Pandora, text messaging and the cloud-base Aha application. Powering the MDX 2014 Prototype is an all-new 3.5-liter V-6 with direct injection and a cylinder deactivation feature to shut down cylinders for increased fuel economy. Acura also enhanced sound-deadening techniques to improve cabin quietness.

The MDX will be available with a full suite of safety systems including forward collision warning, lane departure warning, blind spot warning, a multi-angle rearview camera as well as lane keep assist and active cruise control.

The MDX 2014 Prototype is so close to a production model that there's even an on-sale date provided. Expect to see the all-new MDX in mid-2013.