Aha Mobile App Gains Popularity Among Automakers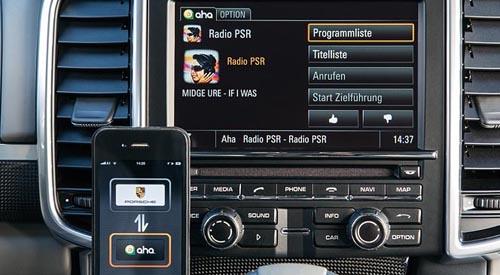 Don't worry: Porsche, Ford and Subaru aren't preloading 1980s' pop band A-ha's discography into every car. This Aha integration by Porsche, Ford and Subaru announced at the 2013 Consumer Electronics Show in Las Vegas is the Aha mobile application that combines a massive collection of web content into one app, including internet radio, podcasts, audiobooks, news, talk shows, Facebook and Twitter.
Users create categories of personalized content — available from 30,000 radio stations as well as Aha partners Slacker Radio, NPR, "60 Minutes," The Onion and more — for easy access instead of flipping through individual applications. Automakers duplicate the app's usability into the multimedia system's display where users have control of the app via the vehicle's commands – phones are connected through a USB input, and Ford says Android devices connect to Aha via Bluetooth streaming audio.
Automakers have flocked to CES in recent years to show off the latest in-car technology and gadgetry. The Aha app is gaining interest among automakers, and Aha says more than 10 automakers will feature its app in 2013 — Acura and Honda already offer the app on select models. Aha is a free download for Apple iOS and Android devices.
Subaru's Aha integration comes with the announcement of its "Starlink" in-car connectivity system debuting on the all-new 2014 Subaru Forester. Subaru says the inclusion is a running change for 2013 Legacy and Outback models equipped with navigation and will be available on the 2014 Impreza, BRZ and XV Crosstrek this summer.
Ford's voice-activated Sync features Aha on models equipped with Sync's AppLink system, which is available on select 2013 Ford vehicles like the Fiesta, Mustang, Expedition, Fusion, F-150 Super Duty, Focus, E-Series and C-Max. Drivers can use Sync's voice commands to access Aha categories and features if paired with a compatible smartphone.
The entire Porsche lineup gains the availability of Aha on navigation-equipped Porsches, which further requires a $210 Online Services with additional phone and USB connectivity features.