2014 Aston Martin Rapide S: First Look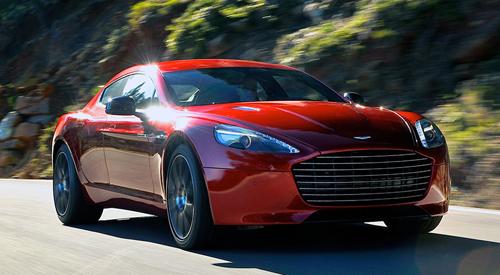 Competes with: Rolls-Royce Ghost, Bentley Continental Flying Spur, Mercedes-Benz S65 AMG, Porsche Panamera Turbo S
Looks like: The Rapide adopted a conjoined grille
Drivetrain: 550-hp, 6.0-liter V-12 with six-speed automatic transmission; rear-wheel drive
Hits dealerships: Next month
Aston Martin's four-door Rapide S replaces the Rapide for 2014. Typical of "S" designations, it brings more power to the British marque's only four-door car. Aston Martins are about as easy to distinguish as Kardashians, but the Rapide S has one giveaway: the grille, which joins the upper and lower portions where the Rapide left them split. Aston Martin says it works in conjunction with a revised hood and front bumper to improve pedestrian protection, which is in line with Europe's latest pedestrian-impact regulations.
Typical of an exotic car, the Rapide S offers all manner of options including carbon fiber along the lower bumpers, mirrors and taillight frames. Twenty-inch wheels are standard, as are wide P295/30ZR20 rear tires. The four-seat interior now comes in luxury or sports themes, with available materials like piano-black door handles or bamboo dashboard inlays. The six-speed automatic transmission still operates via glass console buttons while revisions to the hood and firewall area aim to reduce noise.
Aston Martin says the Rapide S' V-12 drivetrain boasts 80 extra horsepower and 14 extra pounds-feet of torque over the normally aspirated 6.0-liter V-12, with 37 more pounds-feet available at 2,500 rpm. The engine now makes 550 hp and 457 pounds-feet of torque thanks to friction reductions, improved camshaft timing and more. The changes allow the Rapide S to hit 60 mph in 4.7 seconds — not the most athletic figure, but Aston Martins are often modest accelerators. (The S65 AMG cracks 60 mph in 4.2 seconds; the Panamera Turbo S whips it up in an expletive-inducing 3.6 seconds.)
But driving is more than just acceleration, and Aston says the V-12 now sits 0.7 inch lower for improved weight distribution. New calibrations for the car's electronic stability system and adaptive suspension aim to improve agility, too, while a reshaped trunk lid should help high-speed downforce.
See the gallery below.
Related
2013 Aston Martin DB9: First Look
James Bond Cars You Can Afford
More Automotive News