Audi To Debut 2014 R8, RS 5 Cabriolet at 2013 Detroit Auto Show
Audi has announced plans to unveil a pair of new cars for 2014 — the R8 and the RS 5 Cabriolet — this month at the 2013 North American International Auto Show in Detroit, with more likely to come.
The automaker promises that improvements to the 2014 R8 will make the high-performance sports car "more dynamic and powerful than ever before." That's thanks to the newly developed seven-speed automated manual transmission; Audi credits it with shaving 0.3 seconds off the R8's zero-to-60-mph time when paired with the top-tier R8 V10 Plus model's 5.2-liter V-10.
The direct-injection R8 V10 Plus creates 550 horsepower and is good for a zero-to-60-mph time of 3.3 seconds and a top speed of 196 mph. The other available engines are the 5.2-liter V-10 and the 4.2-liter V-8, both of which are also direct injection. The eight-cylinder and 10-cylinder engines are available on both the R8 Spyder and coupe while the V10 Plus is only available on the coupe.
Exterior updates include newly structured LED headlights, a hexagonal grille, new side mirrors and large, round tailpipe trims.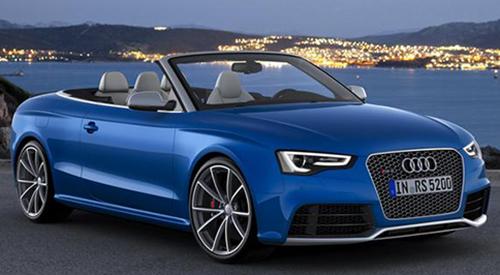 Joining the R8 in Detroit will be the 2014 RS 5 Cabriolet, which expands the RS 5 coupe brand with a soft-top convertible model while boasting comparable performance numbers. The RS 5 has a 4.2-liter eight-cylinder engine that creates 450 hp, is good for a zero-to-60-mph time of 4.9 seconds and a top speed of 174 mph. According to Audi, it also maintains competitive fuel economy at 16/22 mpg city/highway.
New exterior features on the cabriolet include LED light strips on the headlights and taillights; a redesigned rear bumper; a higher diffuser and a honeycomb screen insert enclosing the two large elliptical tailpipes of the exhaust system; and a spoiler lip on the trunk. When the cabriolet's push-button power top is down, it takes up 2.12 cubic feet of the trunk's total 13.42 cubic feet.
Both the R8 and RS 5 Cabriolet will go on sale in the spring, Audi said. Check back for more details during the 2013 North American International Auto Show in Detroit.
Related
2013 Audi R8 Video
2013 Audi RS 5: Up Close
More 2013 Detroit Auto Show News